Eggsalad Sandwich & Crisps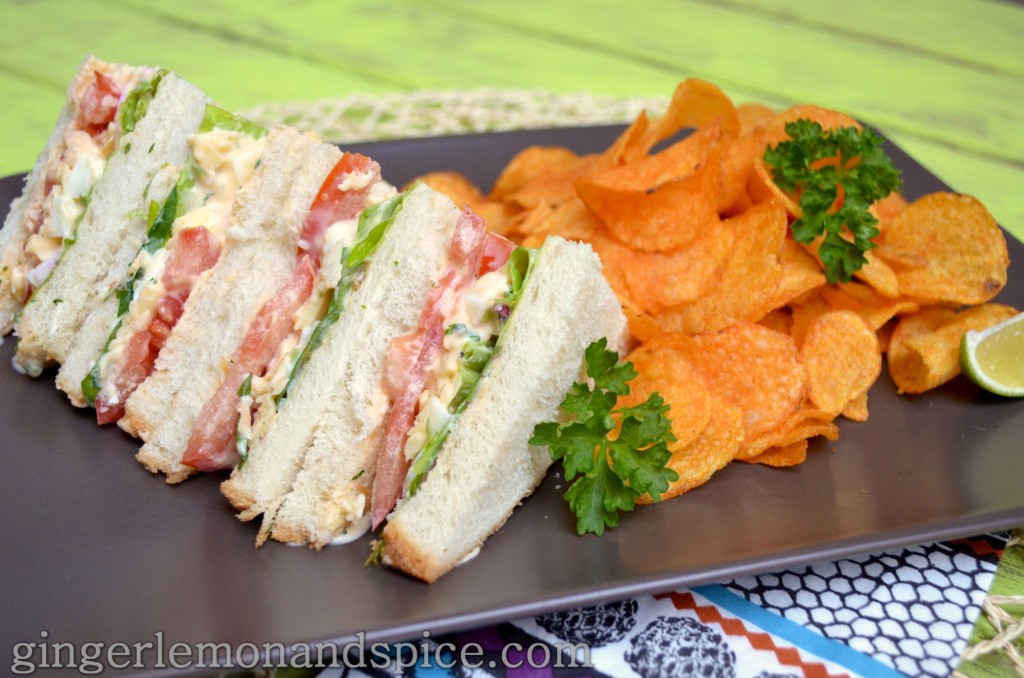 Author:
Kathrin @ ginger, lemon & spice
Recipe type:
Snack, Sandwich
4 hard boiled eggs
1 Tbsp. of Yoghurt
1 Tbsp. of Mayonnaise
1 Tbsp. fresh finely chopped parsley
juice of ½ a lime
salt, pepper
4 big slices of sandwich bread
a handful of young salad leaves
3 Tbsp. grated cheddar (preferably Irish)
1 tomato in thin slices
2 big handfuls of crisps (preferably Irish salt or salt & vinegar crisps)
First prepare the egg salad by peeling and chopping the eggs in chunks that are not too small. Add yoghurt, mayonnaise, parsley, limejuice, pepper and salt to the mix and stir. Taste if the mix needs more of anything! Eggs can use quite a bit of salt, so keep that in mind.
Lay two slices of the bread in front of you and spread the eggsalad on them. Add the cheese, salad and tomato slices on top and cover with another slice of bread. Cut diagonally into 4 pieces and arrange them on nice plates.
Put the crisps next or around the sandwiches and dig in!!
Recipe by
ginger, lemon & spice
at http://gingerlemonandspice.com/2014/03/eggsalad-sandwich-crisps/