Zucchini Corn Muffins With Cheese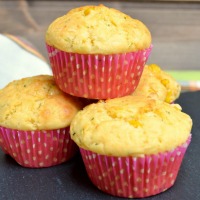 Author:
Kathrin @ ginger, lemon & spice
1 cup buttermilk
45g (3 tbsp) butter, melted and cooled
3 tbsp canola oil
2 large eggs
150g (1 cup) flour
120g (1 cup) corn flour
4 tbsp sugar
2½ tsp baking powder
¼ tsp baking soda
½ tsp salt
½ cup shredded zucchini, liquid squeezed out
½ cup corn kernels (frozen or canned)
1 cup shredded Cheese (I used Gouda)
Preheat the oven to 300°C (400°F). Line the 12 molds of a muffin pan with paper cups.
In a bowl mix eggs, buttermilk, melted butter, and rapeseed oil until well blended. Add flour, corn flour, sugar, baking powder, baking soda, and salt and mix well but start slow.
Fold in zucchini, corn and cheese and divide the batter evenly between the 12 molds.
Bake for 15-20 minutes in the oven until the tops are golden and a skewer inserted into the center of the muffins comes out clean. Let the muffins cool for 5 minutes then remove them from the pan and serve.
Recipe by
ginger, lemon & spice
at http://gingerlemonandspice.com/2014/09/zucchini-corn-muffins/