Steak, Green Beans and Hasselback Potatoes on Mother's Day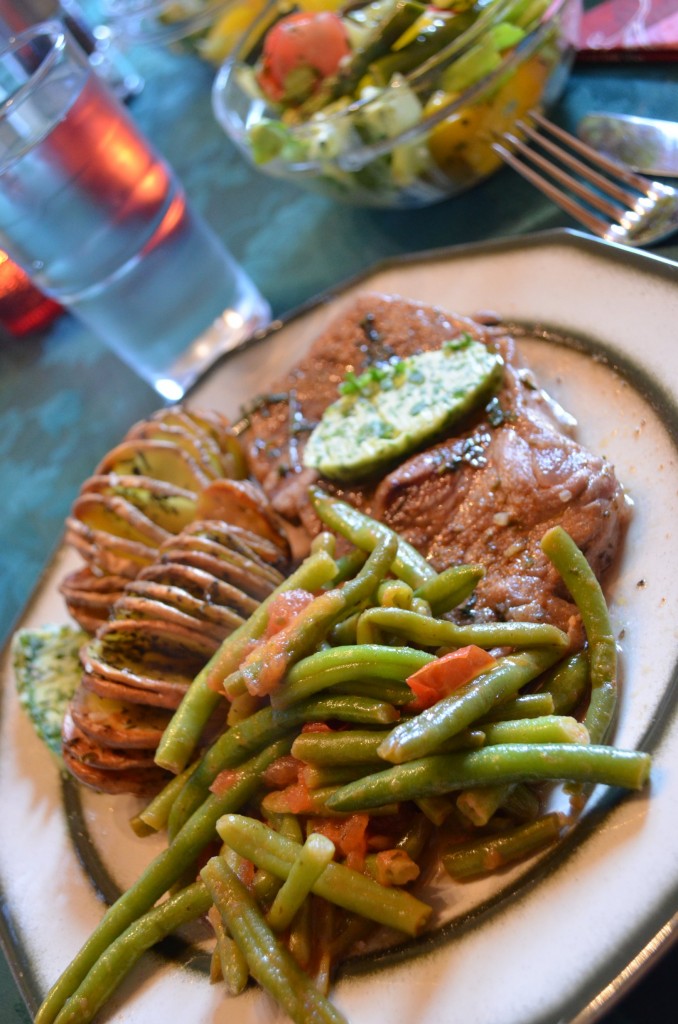 Author:
Kathrin of Ginger, Lemon & Spice
Recipe type:
Meat Main Dish
125g (1/2 cup) softened butter
200g wild garlic
salt
16-18 small potatoes
fresh herbs (I used rosemary and lemon thyme)
coarse sea salt
5 tablespoons olive oil
6 beef steaks
olive oil
salt, pepper and a sprinkle of fresh thyme
750g frozen green beans
4 big tomatoes
55g (1/4 cup) butter
very herby salt (or normal herb salt with extra herbs)
Chop wild garlic very finely. Mix with butter and salt to taste. Put on a piece of baking paper and form into a roll and put in the fridge to cool down. This is best prepared a day ahead.
Preheat oven to 200°C (375° F). Brush and wash your potatoes thoroughly. Take a sharp knife and cut into the potato far but not through. It has to be attached a little! Make more of those incisions about 2-3 mm apart. To make sure not to cut through the potato you can hold your knife peak downwards like a landing airplane! Once you touch your cutting board with the peak just stop cutting.
Chop your herbs very finely. Seperate the cuts of the potatoes a little bit with your fingers and sprinkle herbs in. Arrange all potatoes on a baking tray covered with baking paper and drizzle with olive oil. Sprinkle sea salt on top.
Bake your potatoes in the middle rack for about 35-40 minutes. You have to have a look how crispy you want them!
About 2 hours before you want to cook them take the steaks out of the fridge and let them reach room temperature. Brush them with oil and sprinkle with salt and pepper. When your potatoes are ready turn the oven off and start cooking the meat.
We used a griddle (electric grill with two griddle pans pressed together) to cook the steaks as I was occuping the pan with the beans. So preheat whatever you are using and once it is really hot put the steaks in. They only need like 3 minutes on each side! You want the insides to be rose. Put the steaks on a plate, sprinkle with just a little of finely chopped thyme and put them in the turned off oven (where your potatoes are - you are just using the left over heat) for a few minutes until you are finished with the beans.
Put green beans in a large pan on high heat and cover with a lid. Meanwhile chop your tomatoes in chunks. Once the beans are thawed remove the lid and continue heating the beans on high heat and stir. When the beans are warm and most of the water is evaporated add the tomatoes. At the time the tomatoes start to soften turn the heat off and add the seasoning and butter and stir until the butter is melted. You can add more salt or herbs if you feel the need to.
Serve immediately and dig in!! :)
Recipe by
ginger, lemon & spice
at http://gingerlemonandspice.com/2013/05/steak-green-beans-and-hasselback-potatoes-on-mothers-day/