Braided Yeast Bread with Walnut Filling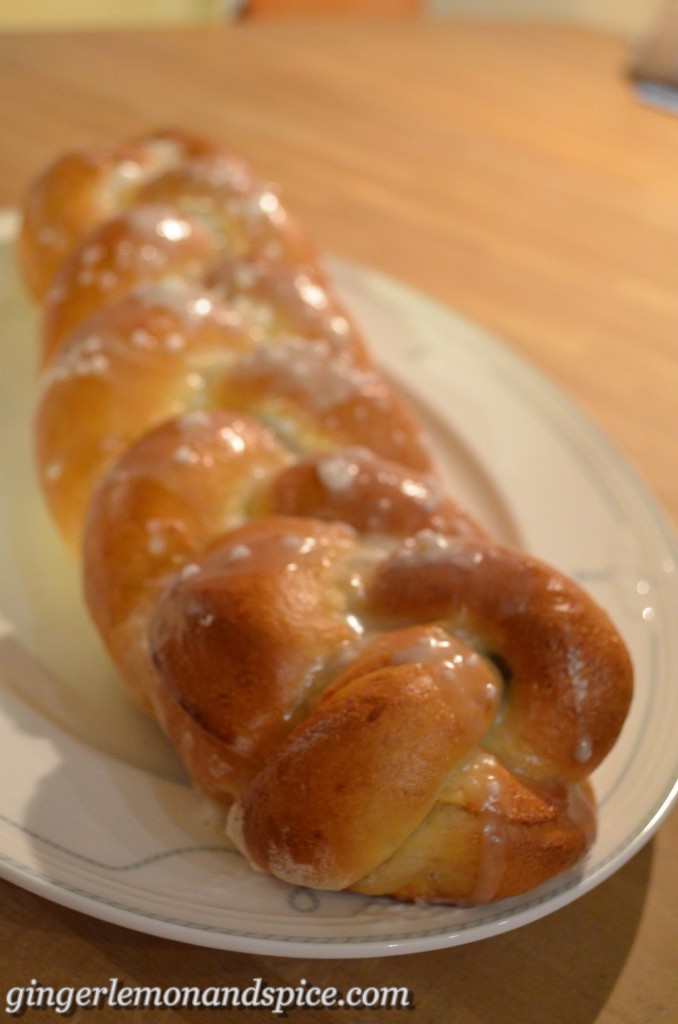 Author:
Kathrin @ ginger, lemon & spice
500g (4¼ cups) flour
1 sachet of dry yeast
1 pinch of salt
50g (1/4 cup) sugar
50g (1/4 cup) butter, softened
200ml (3/4 cup) lukewarm milk
150g (1¼ cup) grounded walnuts
75g (1/3 cup) sugar
1 tablespoon vanilla sugar (or 1 teaspoon extract)
1 tablespoon bread crumbs
6 tablespoons cream
1 egg white
if you want: apricot marmelade
1 egg yolk
1 tablespoon of milk
40g (1/3 cup) powdered sugar
about 1 teaspoon milk or lemon juice or mixture of both
Put flour, dry yeast, salt and sugar into a bowl and mix. Put softened butter in flakes on top. Slowly add warm milk and mix with a dough hook on an electric mixer. When it pulls of the bottom of the bowl take the dough out on a floured surface and knead with your hands for 5 minutes. Put it back into the bowl and cover with a kitchen towel. Let it sit on a warm place until it doubles in size (about 30-45 minutes).
Mix walnuts, sugar, vanilla, bread crumbs, cream, egg white and if you prefer some apricot marmelade to taste.
Roll out your dough on a floured surface. You can make it as thick or thin as you like. If you prefer your filling more evenly distributed make it thinner and if you want a thicker layer of filling do it thicker.
Cut the dough into 3 parts lengthwise. Distribute the filling on all three parts, then roll up each one individually from the larger side. Now you have your three strings and you can start braiding from the middle to each side (look on the fotos for reference). Hide the ends underneath the braid and put the whole thing onto a baking tray that's layered with baking paper.
Let it sit covered with the kitchen towel in the warm place for another 30 mins.
Preheat oven to 180° C (350° F).
Mix the egg yolk with the milk and brush it on top of the braid. Bake for about 35 minutes.
Your braid is finished when the top (and bottom) are golden brown and a wooden skewer inserted into the middle comes out clean.
Mix powdered sugar and liquid (little by little!! until you have the consistency you want) and brush on top of hot braid. Let cool and Enjoy!!
Recipe by
ginger, lemon & spice
at http://gingerlemonandspice.com/2013/06/yeast-braid-with-walnut-filling/