Easy Low Fat Apricot Cake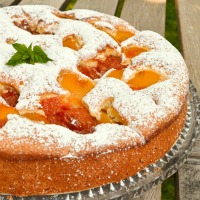 Author:
Kathrin @ ginger, lemon & spice
850g (1.8 lb) of fruit (canned or fresh apricots or peaches, I used homemade canned peaches)
3 eggs
pinch of salt
6 tablespoons lukewarm water
100g (1/2 cup) sugar
1 teaspoon lemon zest
150g (1¼ cups) flour
1 teaspoon baking powder
1 tablespoon powdered sugar
Prepare the fruit: Drain with sieve if it's canned, or wash, peel and cut in big chunks if fresh. Preheat oven to 180° C (350° F). Prepare a springform (26cm in diameter) pan with baking paper. Just place the pan on a sheet of baking paper, circle around the bottom and cut it out. Butter the pan and place the circle of baking paper on the bottom.
Separate the eggs into two different bowls. The bowl with the egg whites has to be completely clean and fat free otherwise the whites won't get stiff! Beat the egg whites with the salt and an electric mixer until they form stiff peaks.
Then beat the yolks with the sugar until creamy. You don't have to clean up your beaters if you do it in that order! Add the water and whisk on very slow speed.
Add lemon zest, flour and baking powder and mix well. Then add the egg whites and whisk carefully per hand. Don't overmix!! It should just be incorporated!!
Pour the batter into the pan and distribute the fruit on top. Bake for 25 minutes.
Let the cake cool for 10 minutes then remove the pan and sprinkle with powdered sugar. Let cool completely and enjoy!!
I used my mom's springform pan and hers is 28cm in diameter. Because that's a little bigger I had 4 eggs and adjusted the rest of the ingredients accordingly!
Recipe by
ginger, lemon & spice
at http://gingerlemonandspice.com/2013/07/easy-low-fat-apricot-cake/