Acılı Ezme - Turkish Spicy Ezme Salad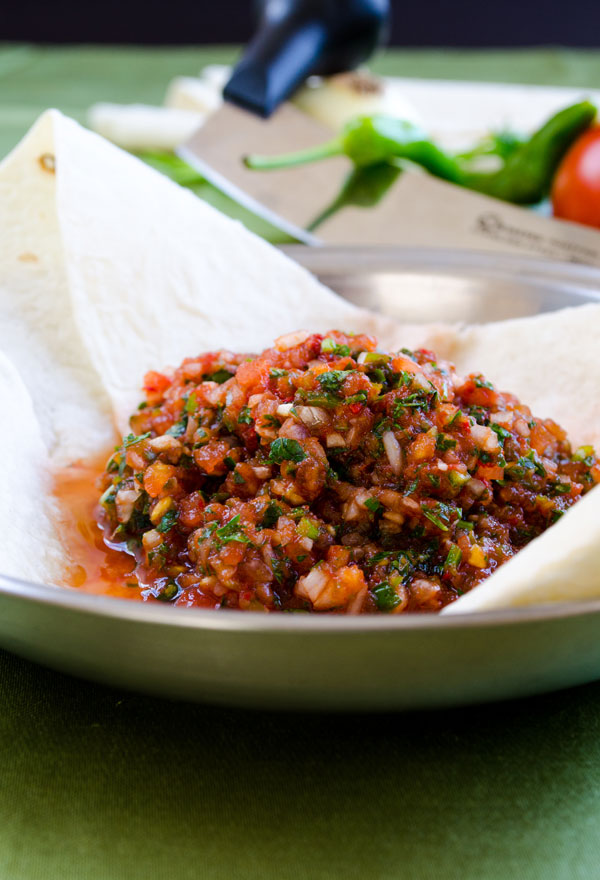 Author:
Zerrin @Give Recipe for ginger, lemon & spice
2 tomatoes, peeled
1 onion
1 clove garlic
2 chili peppers
¼ bunch of parsley
1 tbsp lemon juice
2 tbsp pomegranate molasses
1 tsp pepper paste
2 tbsp olive oil
Salt to taste
½ tsp chili powder
½ tsp sumac
A pinch of dried mint
Chop peeled tomatoes, onion, garlic, chili peppers and parsley as finely as you can. The finer the better. Mix them in a bowl.
Mix lemon juice, pomegranate molasses, olive oil and pepper paste until smooth. Add this mixture into salad.
Add salt and spices, mix well.
Chill it in refrigerator for half an hour and serve!
Recipe by
ginger, lemon & spice
at http://gingerlemonandspice.com/2013/07/acili-ezme/