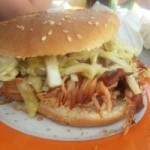 Hi guys!
Today I have something very special for you: The very first guest post on my blog!!
It is even more special because it is my brother Tobias who took the time to write this post and say hi to you!! He is a very passionate cook too, especially barbecuing is something he really likes and celebrates!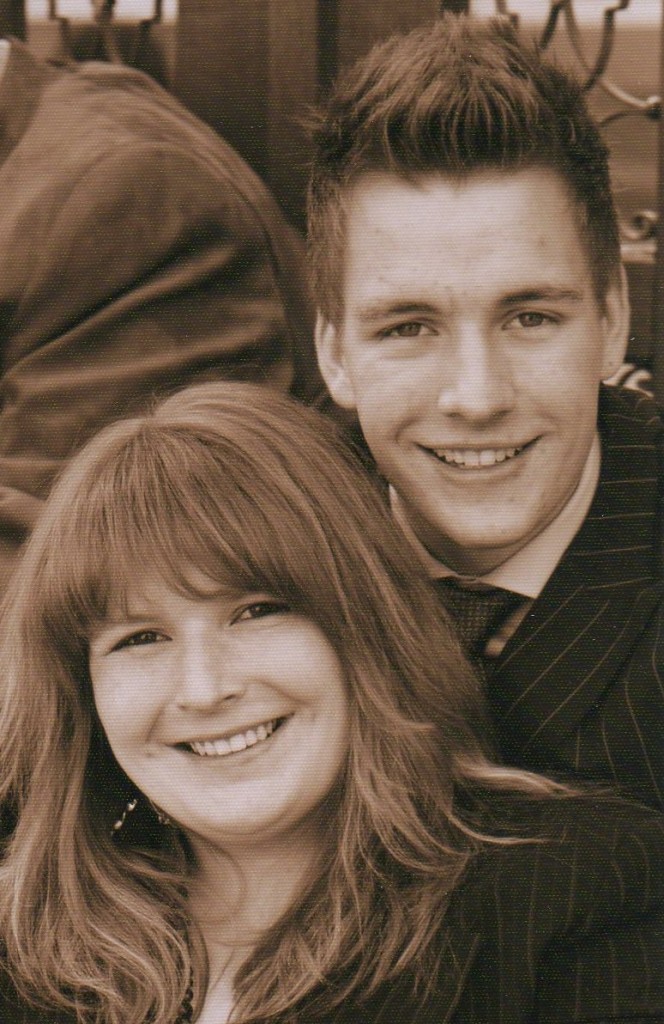 Please give him a warm welcome and don't be shy with comments!! Who knows – he might come back and whip something up for us again 😉
Have fun bro! 🙂
Hi,
This time it's my turn! I'm making a guest article for my Sister!
I absolutely love barbecuing so that's why my recipe is about one of the most difficult category of BBQ: Pulled Pork. It' is pork which is smoked for 12 hours between 90 – 120 °C, 100°C are perfect. In the end it's incredibly delicate, so you can easily pull the meat fibres apart.
I made it yesterday with some friends and it was absolutely fantastic. But first things first:
We started with three 3 pork shoulders (Two with about 1,3 kg and one with 1,6 kg). They have to be marinated one day before start barbecuing for the best tasting experience. So I coated it really thin with medium-hot mustard and then rubbed it with my absolute favourite spice "Magic Dust".
Actually it IS absolute magic! You should always keep a spice shaker next to your Barbecue: It's fantastic with pork, whatever part of it. Unfortunately the recipe is top secret so I can't tell you the ingredients, sooo…. aahh what the heck:
Ingredients
6 Parts Paprika mild
2 Parts Paprika hot
2 Parts Garlic
1 Parts Mustard seeds light
1 Parts Mustard seeds dark
4 Parts Sugar brown
4 Parts Salt
2 Parts Pepper black
1 Parts Cumin
2 Small hot Chilies
Directions
The Ingredients should be in the shape of powder and dry. I prefer using whole pepper and whole cumin and grind it myself for better taste and the whole taste of the essential oil. Just mix everything together!
http://gingerlemonandspice.com/2013/07/pulled-pork-magic-dust-and-coleslaw/
Copyright by Ginger, Lemon & Spice (http://gingerlemonandspice.com
Back to topic: After rubbing it, the pork should be dry outside, so you should use a real lot of the magic dust. It can use it!
Now wrap it with foil and keep it in the fridge for at least 12 hours. The longer you keep it the better it is!
But what about the Hardware I use?
I got a Kettle Barbecue grill from Dancook the Dancook 1400. It has a fantastic technique which helps saving charcoal, for further informations just google it! There are some good tests about it!
For charcoal I used Profagus Brekkies. There are completely made out of beech from the last charcoal factory in Germany. They are one of the best on the market. High and long heat, easy to light and they don't smoke!
For lighting I use the Weber rapidfire chimney starter. I put one egg carton and a paraffin cube underneath it and it glows in 10min.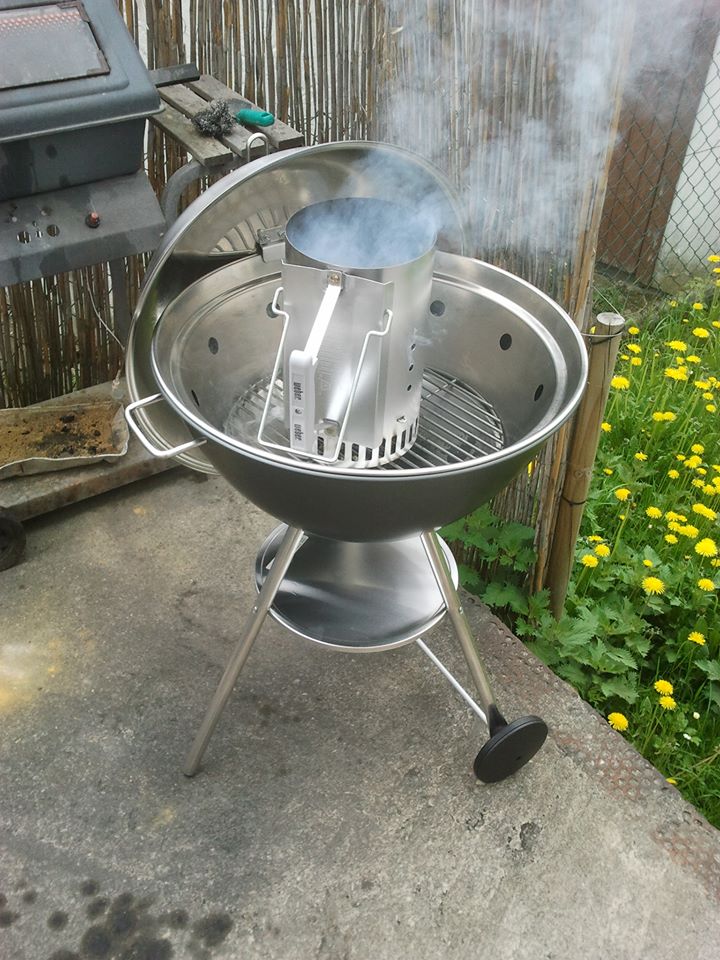 Furthermore I have a Maverick ET-732 for BBQ-temperature and food-temperature control and a Smokinator grill attachment. With this Smokinator you can perfectly keep the BBQ Temperature at about 100 °C.
Beside the Meat we wanted Coleslaw, so I made one a day before, also like my favourite recipe.
Copyright by Ginger, Lemon & Spice (http://gingerlemonandspice.com
On the next day I started at 4:30am with lighting up the charcoal. It was 5:00 am when the Pork got on to the Barbecue. Use about two hands of watered beech on the charcoal for a great smoky flavour. The meat only gather the smoke in the first few hours!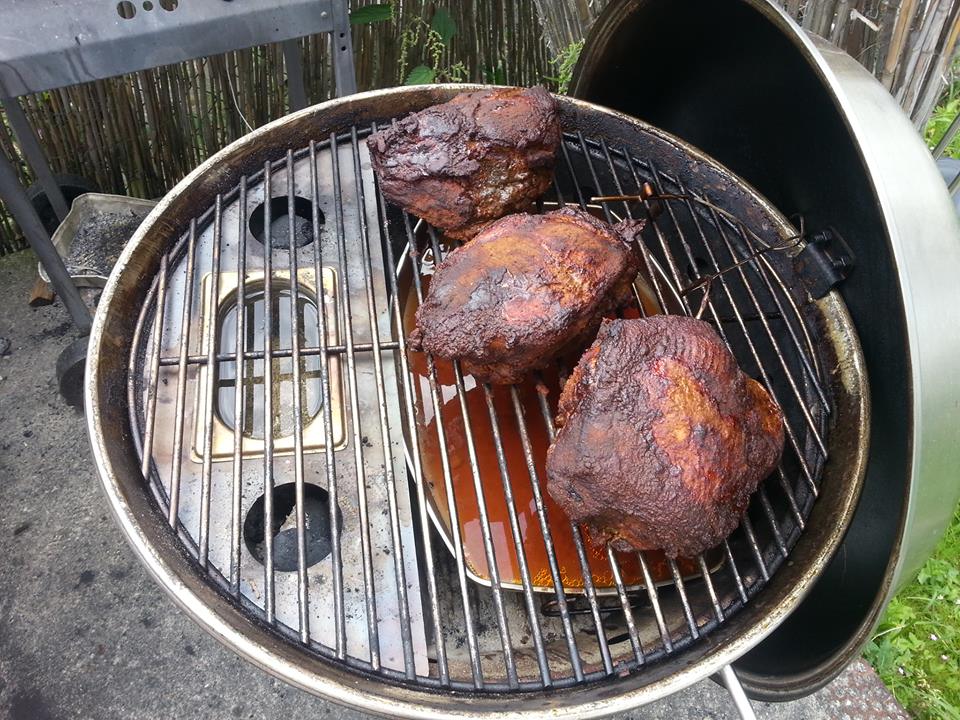 This Picture was made after 5 hours. On the left side you see the Smokinator with the charcoal inside. The bowl underneath the meat is for the juice.
The Meat Temperature should get up to 94°C. When you try to do so, you will notice a strange phenomenon. The temperature rises in the first 4 hours from 10 to 60 °C but at about 65 °C it keeps a REALLY long time to rise over 70 °C. In my case it took another 4 hours to get over 70 °C. This is called the Stall.
It is because of the enthalpy of evaporation. This keeps the temperature the same as long as you have free liquid water in the meat, but there is a small simple trick to get it faster: wrap the meat with aluminium foil. With this trick you minimize the volume of the relevant cooking chamber, so the air is saturated with steam much faster. When the air is saturated, the process of evaporation and condensation is fulfilled much faster and the temperature rises again.
When the meat is at 94 °C its still wrap in aluminium foil, but before you start eating, let it some time to relax. The best way to do so is to take a big cooling box and put some glass bottles filled with boiling water on the bottom of it, put the wrapped meat on it and another layer of bottles. Keep it for half an hour so the juice can spread.
Now the "work" is done! 🙂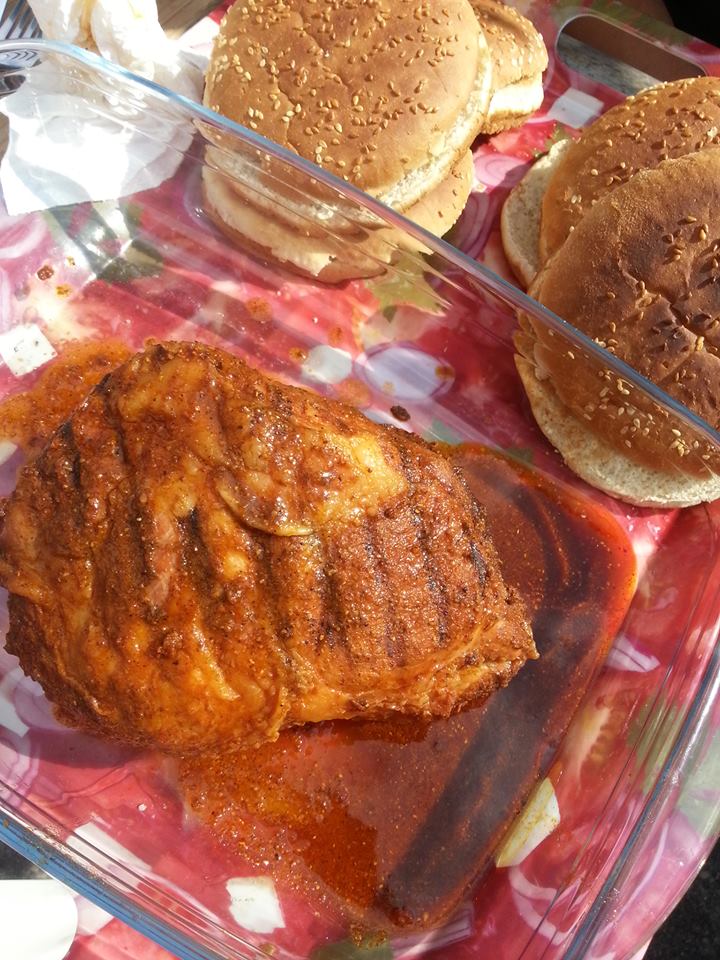 Take two forks and start pulling! It should be so delicate that it crumbles.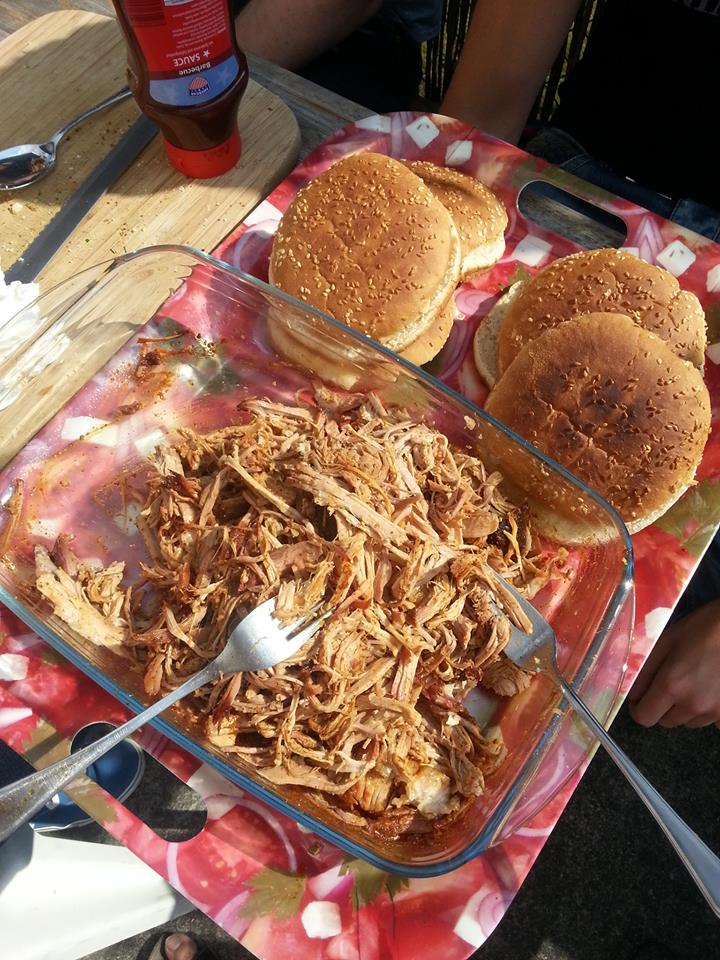 Now take a burger bun, half it, toast it, put some pulled pork and some barbecue sauce (recipe below) on one side and some coleslaw on the other.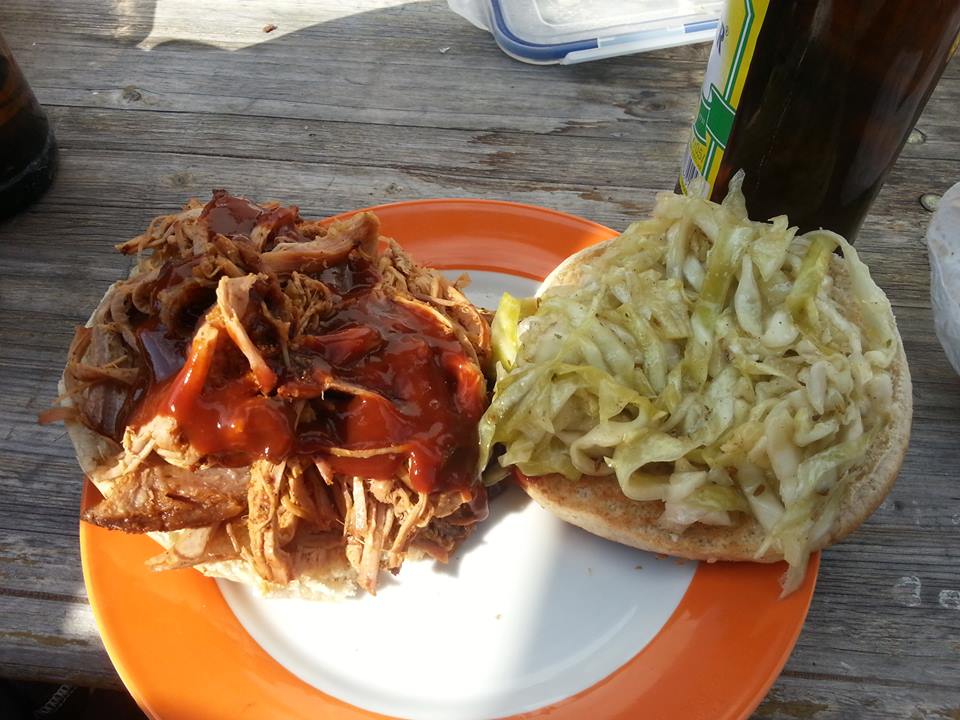 Put it together and enjoy 🙂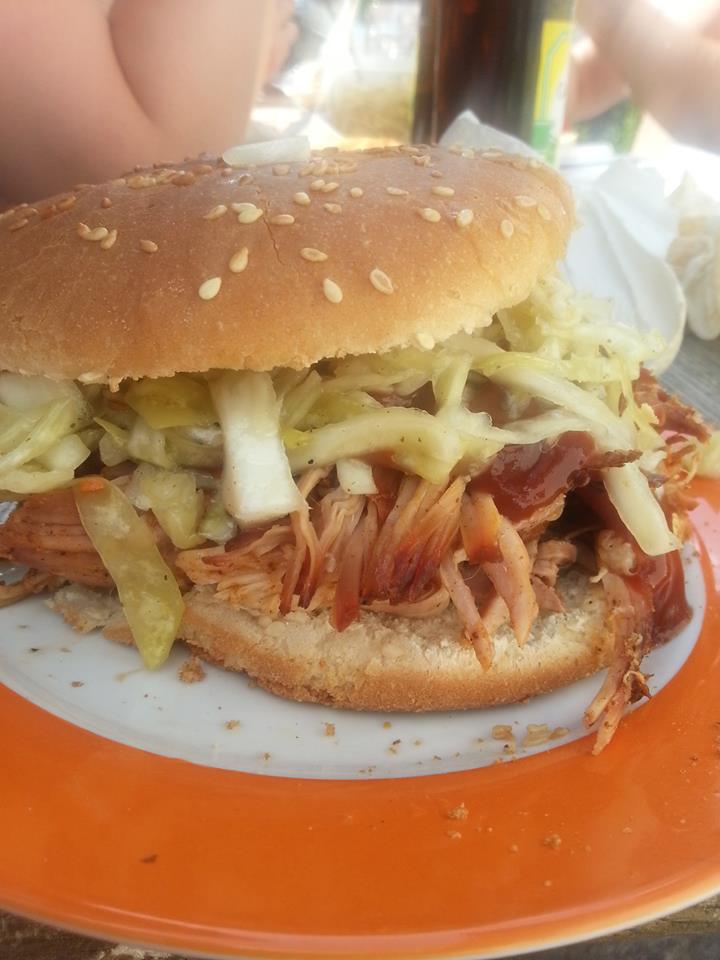 For one of the best barbecue sauce ever, take the meat juice from the bowl and reduce it, put some apple vinegar, sugar, a tube tomato paste to it and season it with magic dust. Et voila 🙂
Now you might think: "stand up at 4 o'clock and barbecue for 12 hours? Why???" The only thing I could say: try it only once and you'll be on my side! All my friends thought the same until they have tasted.
I hope you all enjoyed my first blog article. I would love to hear some constructive criticism.
Best wishes
Tobias