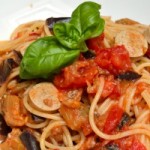 Hey there! 
It's me again 🙂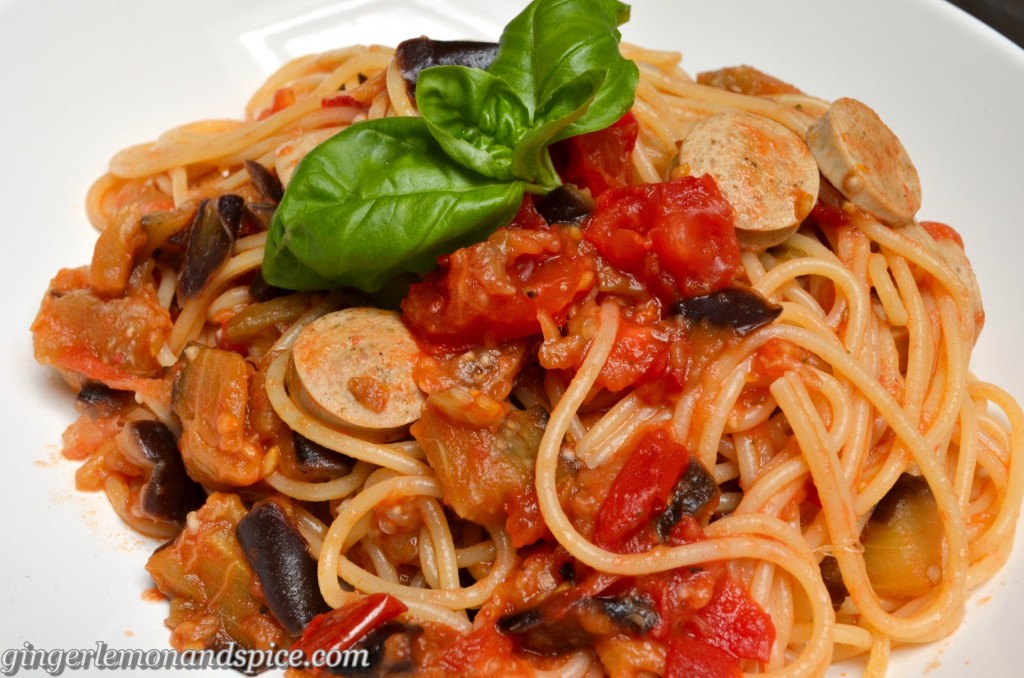 We're planning a big grilling party today with friends! So I'm a bit out of the normal 😉 Usually I am all for planning big and complex, but this started out as just a wish to turn on the grill… I talked to one of the girls I am living with and we decided we wanted to grill since it's summer and all. Well, needless to say I was all in! I thought yeah, let's do this as we don't do it often in the 'big' city. We only have a very small backyard.
At my parents we have a big backyard and in summer time we kind of live outside. We grill nearly everyday and it usually goes without planning! When my relatives that live next to us want to do it too, they just come over with their stuff or we go to their house and then we just have a good time. It is all very SIMPLE! The basic ingredients for salads and the stuff that will be grilled we usually have at home or we create something out of the things we have.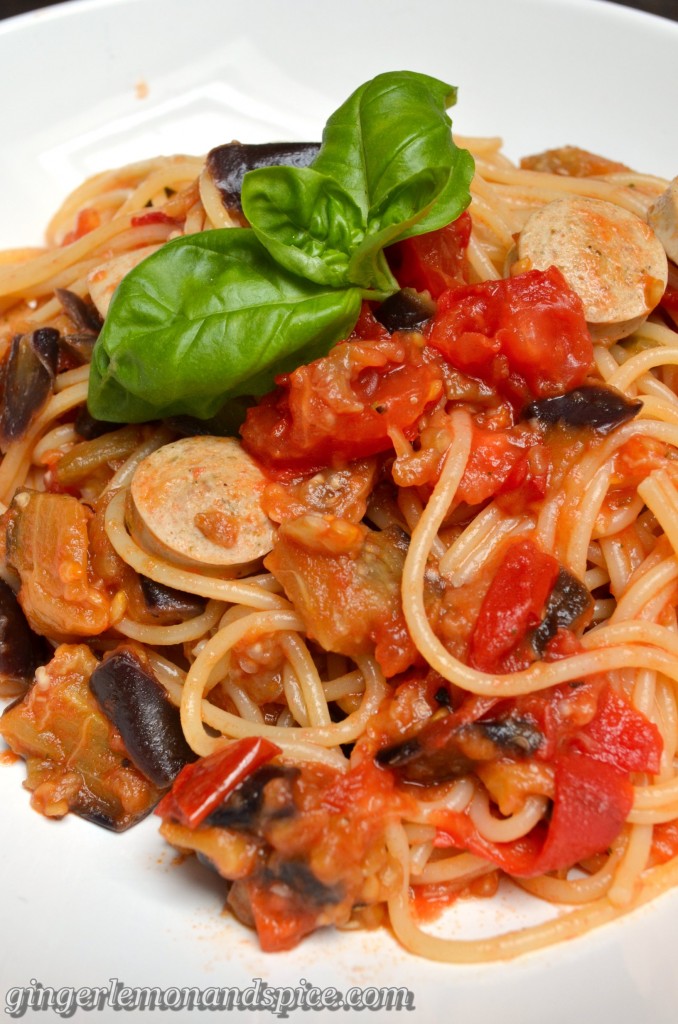 But this thing here in the city with my flat-mates – it got kind of out of hand 😉 It is all very planned out, like a week planned ahead, who brings what so that there won't be two kinds of pasta salad or something else that 'horrible'. 😉 We   even hat to delay the party for a week! There are some friends coming too. All this exact planning leaded to me being a wee bit stressed out… At some point I was quite annoyed that it wasn't the easy thing I was used to!
I feel quite sorry for that now! I know it will be an awesome evening and we will have lots of fun! I guess everybody plans very different and I have to learn to tame myself and be more tolerant! 😉 I just look back on all this with a big smile now.  Can you relate to that? Do you have sometimes feelings you're not proud of? 😉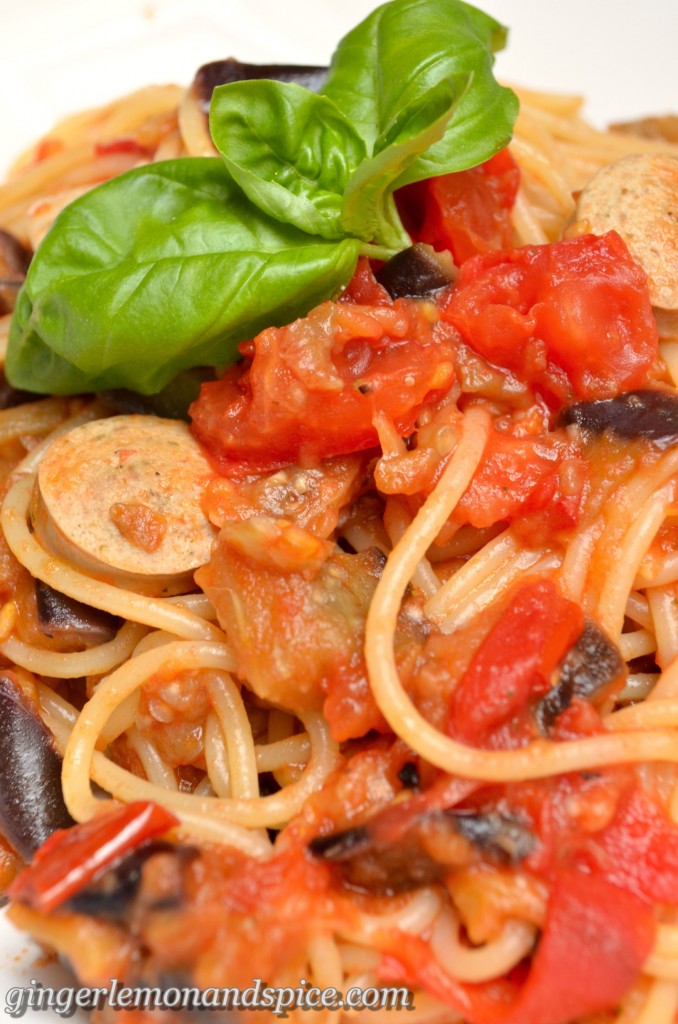 The recipe I have for you today is my newest invention: Mushy Aubergine & Tomato Pasta! I dreamed it up after watching Donal Skehan's newest episode on Jamie Olivers Foodtube. He was cooking Smashed Tomato Pasta and used the word 'mushy' a lot 😉 Watch the video! He really is a great cook and he explains the way that you feel that everybody can do it! And his accent really is the best! So very irish 🙂 Read here why I love Ireland!
Well, I had an aubergine in the fridge to use up. So I started cooking a quick meal and while I went on stiring and stiring I was singing 'mushy, mushy, mushy' in my head. 😉 I think the video really got to me! At first I didn't really plan to take pictures and put the recipe on the blog, but it tasted soo awesome and flavorful, that I just had to take the minute to shoot some pictures!! I don't like aubergines very much usually. Only since last year when I stayed in Turkey I realized that aubergines really CAN taste great! In this recipe the flavor comes out beautifully, you will love it!
Just give it a try 🙂 Enough talk, on to the recipe we go!
Pasta With Mushy Aubergine & Tomato Sauce
A very tasty and comforting pasta dish made in the time the pasta needs to cook! Tastes like summer because of a secret ingredient!
Author:
Kathrin @ ginger, lemon & spice
Cuisine:
mediterranean style
Ingredients
250g spaghetti
1 big aubergine (eggplant)
3 teaspoons salt
2 tablespoons olive oil
1 Bratwurst - optional
3 tomatoes
lime juice of 2 limes
freshly ground pepper
some parmesan if you like
Instructions
Fill your kettle with water and turn it on. If you don't have a kettle heat a pot big enough for the pasta with water on the stove.
Meanwhile preheat a non stick pan to high heat. Chop your aubergine in cubes with sides about one centimetre of length. Put them in the pan and sprinkle with 1 teaspoon of salt and stir until the salt is distributed. Let the aubergine roast (without oil!) and stir often. There will be a bit of a coat on the bottom of the pan - just stir it loose. We want this, it is full of flavor! Just don't let it go black 😉
When the water kettle is finished just pour the water into a pot on the stove and reheat on high heat until it boils. Add 2 teaspoons of salt and the pasta and set your timer on the time it says on the box of the pasta. Turn the heat down to low-medium.
Now you can add the bratwurst (cut into thin slices) if you have it and add the olive oil. mix well. The aubergine should now start to soften up!
Chop your tomatoes roughly in cubes and don't forget to stir your aubergine once in a while.
Add the tomatoes to the pan when you have about 5 minutes left on your timer. You want the aubergine and tomato mixture to get really mushy!!
Just before pasta is cooked, add pepper and lime juice to the pan. Turn the heat off. You don't need to drain the pasta, just put the pot and pan close together, take a pasta fork and fish the pasta out of the pot, let it drain a little and put it directly into the pan. We want a little pasta water to get into the pan!
Now mix it all together well and serve directly. Sprinkle parmesan on top if you like! Dig in 🙂
 
Have a great day!
~ Kathrin