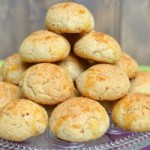 Selam! Hi guys! 🙂
What I have for you today are some delicious Turkish cookies called Kurabiye! They are crunchy on the outside and a little softer on the inside which comes from adding the yoghurt to the dough! Also I liked the dough VERY much because it has such a funny texture which should remind you of how an earlobe feels! That was all I was thinking about when I formed them, I had soo much to laugh 😀 Sometimes I'm a little childish!!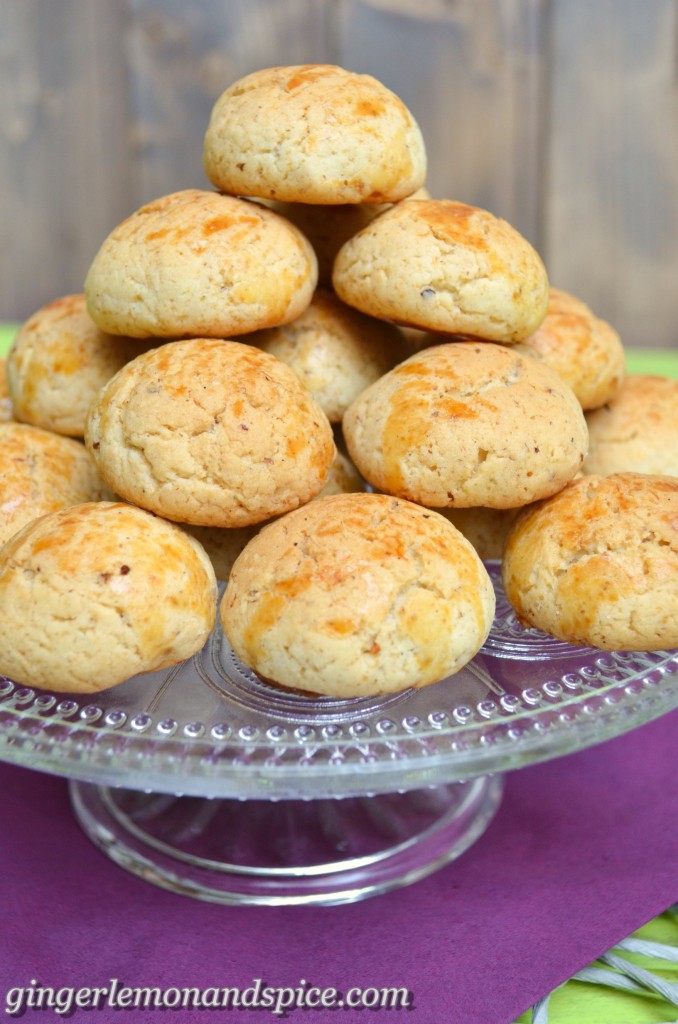 Three days ago I told you about some drinking habbits of the Turkish people. And this is something that goes perfectly with it! Eat those Kurabiye (Almond and Citrus Cookies) with a nice cup or glass of tea and just enjoy 🙂
Something else that goes with tea or coffee is Turkish Delight! Have you ever heard of it? It has something of the consistency of gummybears but is cut in cubes or cylinders! It is a sweet delicacy to nibble on while you taste the bitterness of the coffee or tea! You can buy it in very many different flavors and filled with nuts or herb aromas or fruit juices… My absolute favorite ones were the Lokum (Turkish word for Turkish Delight) with pomegranate flavor and filled with pistacchios!! But the honey and walnut ones were sooo delicious too! 🙂 If you try them make sure to buy some good ones, because there are big differences in the quality. They have whole stores in Turkey devoted to sell just Turkish Delight which tells you how important this specialty is in Turkey!
You can see the Lokum on the right side, it was with honey, hazelnuts and coconut!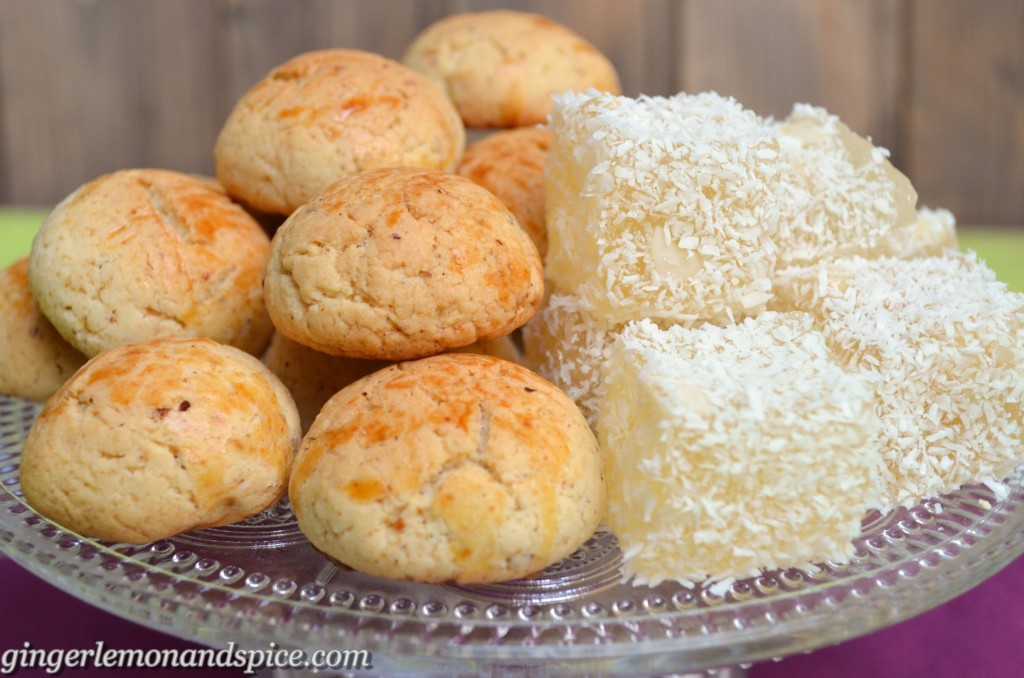 Cookies are very popular in Turkey too, throughout the year! You can find and buy them fresh in special bakeries, supermarkets or coffee shops. I tried a big mixed box of cookies from a coffee shop nearly at the end of my stay and I had some regrets about that 😉 They had many different flavors like chocolate, vanilla, pistacchio, with Kellog's, with nuts or choc chips – it was amazing! And they were soo delicious too!!
On my next stay in Turkey I definitly will buy them again – I have not found the same quality here in the Turkish markets in Germany!
The recipe for one type of cookie you can find below – the yummy almond and citrus cookies 🙂
Hope you like them as much as I did!!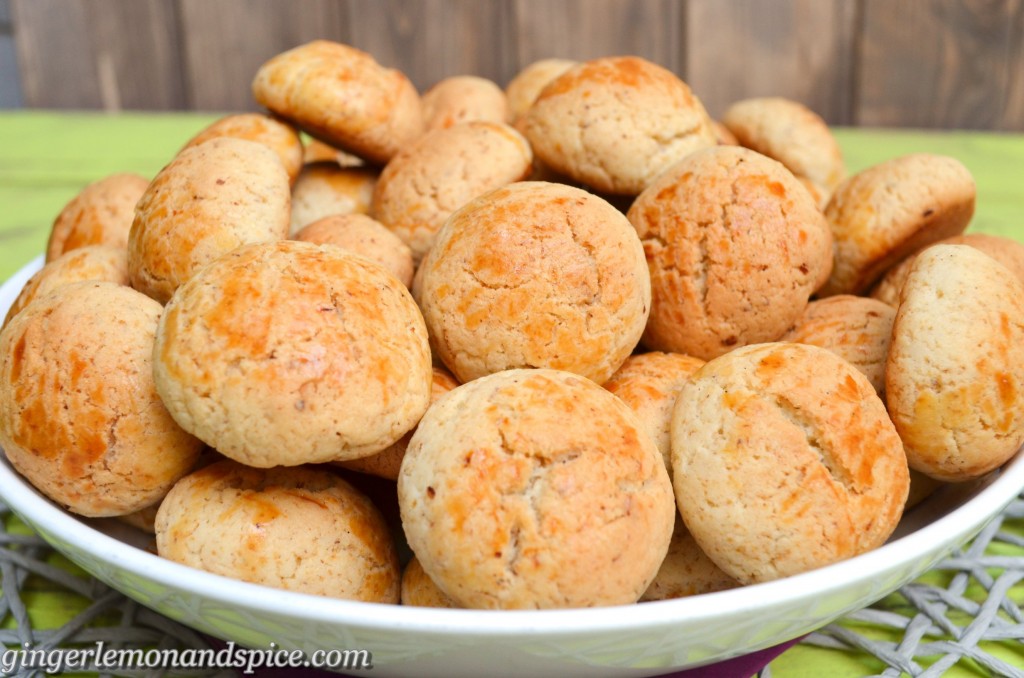 Don't forget: If you have any questions about Turkey, or if you have made your own experiences with Turkish food, the people, the culture or the country please leave a comment!! I would love to hear about it!
Kurabiye
Yummy turkish cookies with citrus and almond flavor!
Author:
Kathrin @ ginger, lemon & spice
Ingredients
750g flour
2 eggs (1 seperated)
1 sachet baking powder (1 tablespoon)
1 sachet vanilla sugar or 1 teaspoon vanilla
300g sugar
250g margarine (room temperature)
250g süzme yoğurt (Yoghurt with 10 % fett, but you could use less too)
50g shaved almonds
2 tablespoons sunflower oil
1 teaspoon fresh lemon zest
Instructions
Beat the whole egg and the eggwhite with sugars and yoghurt until well incorporated. Add oil, zest and margarine and mix!
Put in flour, almonds and baking powder and blend until a very soft dough forms. The Turkish say it should feel like ones earlobe! 😉
Take small pieces of the dough and form them into balls, put them on baking paper covered sheets and coat them with a little of the egg yolk.
Bake the Kurabiye for 40 minutes and let them cool. Eat immediate or store in an airtight container.
Enjoy with a glass of çay (turkish black tea)!!
Afiyet olsun! Enjoy 🙂
Here are the other recipes I shared during this series:
Snack/Fast Food – Lahmacun
~ Kathrin
&copy Copyright 2013 Kathrin, All rights Reserved. Written For:
ginger, lemon & spice