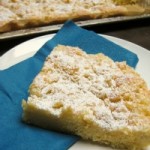 Hello Everybody!
Finally you get to see the recipe for my 3rd birthday cake. It is kind of the signature cake of my godmother and I begged her for the recipe! 🙂 My other birthday cakes were Buttermilk Banana Bread and Cherry Chocolate Cake!
And now I am sharing it with you!! This cake really is a crowd pleaser! Everybody loves it – it is so simple and yet sooo delicious!!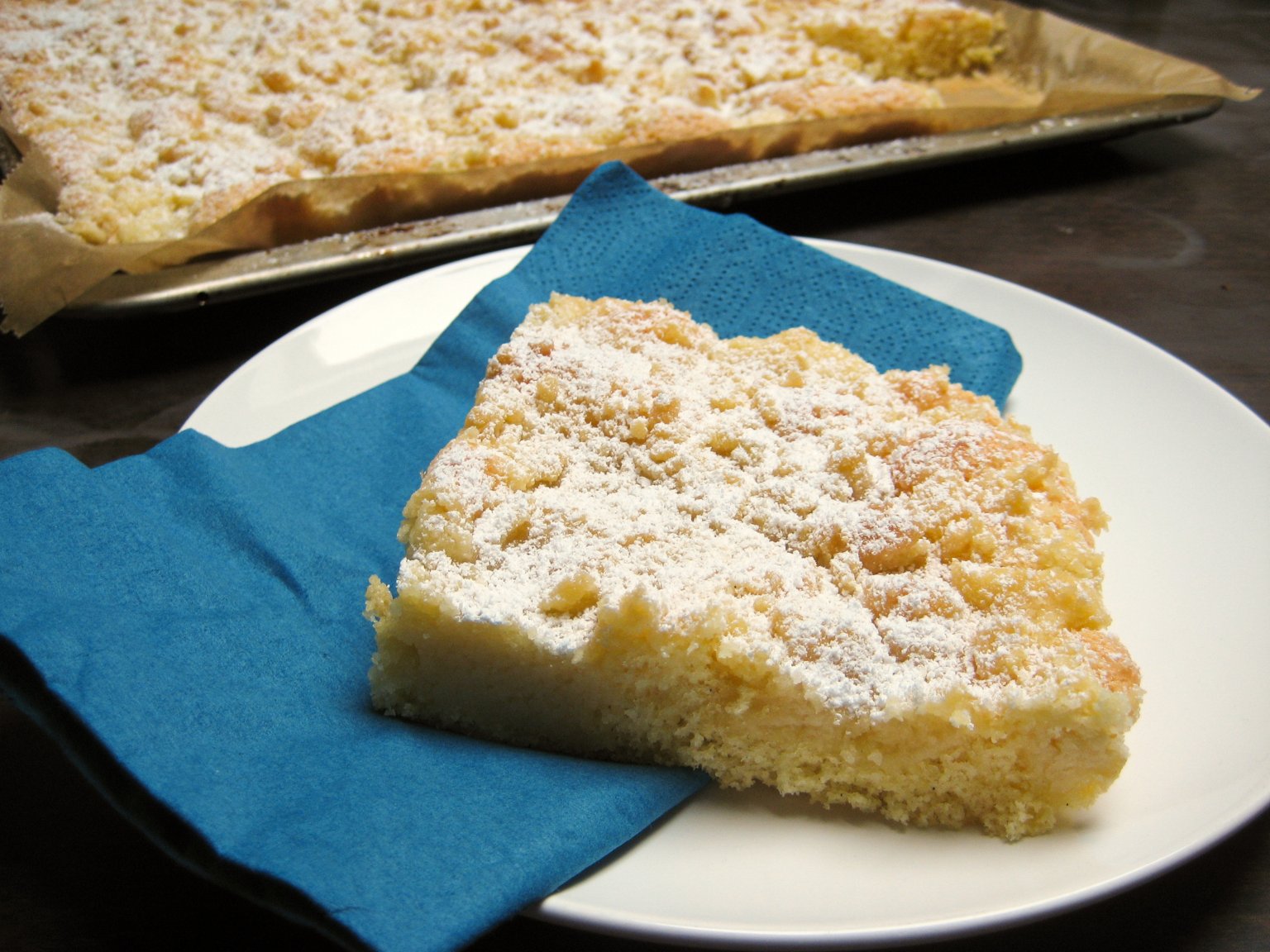 You can get streusel cake at nearly every bakery in Germany and this one just looks like it. You will get asked if you are a professional baker a lot of times 😉
But here is the secret: The cake is not actually very difficult to make! You might even have all those ingredients in your pantry already. Just make it yourself!
Ratz-Fatz Streuselkuchen / Streusel Cake / Crumble Cake
cake base:
4 eggs
200g (a little less than 1 cup) sugar
200g (1 3/4 cup) flour
1 teaspoon baking powder
streusel:
250g (1 1/8 cup) butter, softened
250g (1 1/8 cup) sugar
400g (3 1/3 cups) flour
1 package vanilla sugar or 1 teaspoon extract
for the finish:
200g (7 oz) cream
powdered sugar
Directions:
1. Preheat oven to 180° C (350°F). Line one baking sheet with baking paper.
2. First prepar the cake base: Beat eggs and sugar with a hand mixer until foamy. Add flour and baking powder and mix until incorporated. Pour onto the baking sheet and smooth out with a pastry spatula.
3. Now prepare the streusel. You need dough hooks on your hand mixer now or you could use your hands! Put butter, sugar, flour and vanilla into a bowl and mix. This takes about 5 minutes until everything is evenly distributed. Put the mixer away and press the streusel to small lumps together and put on top of the cake base. Try to spread evenly.
4. Bake this cake for approx. 20-25 minutes! You can use a knife to lift up the cake at the corners to see if its done from the bottom. Take it out of the oven and immediately pour the cream evenly on top of the cake. Let the cake rest for at least half an hour. The cream will soak in!
5. Coat with powdered sugar with the help of a small sieve and a teaspoon. Dig in!! 🙂
~Kathrin
&copy Copyright 2013 gingerlemonandspice, All rights Reserved. Written For:
ginger, lemon & spice