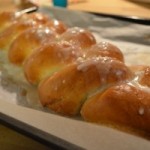 Hey folks! 
Always wanted to say that 😀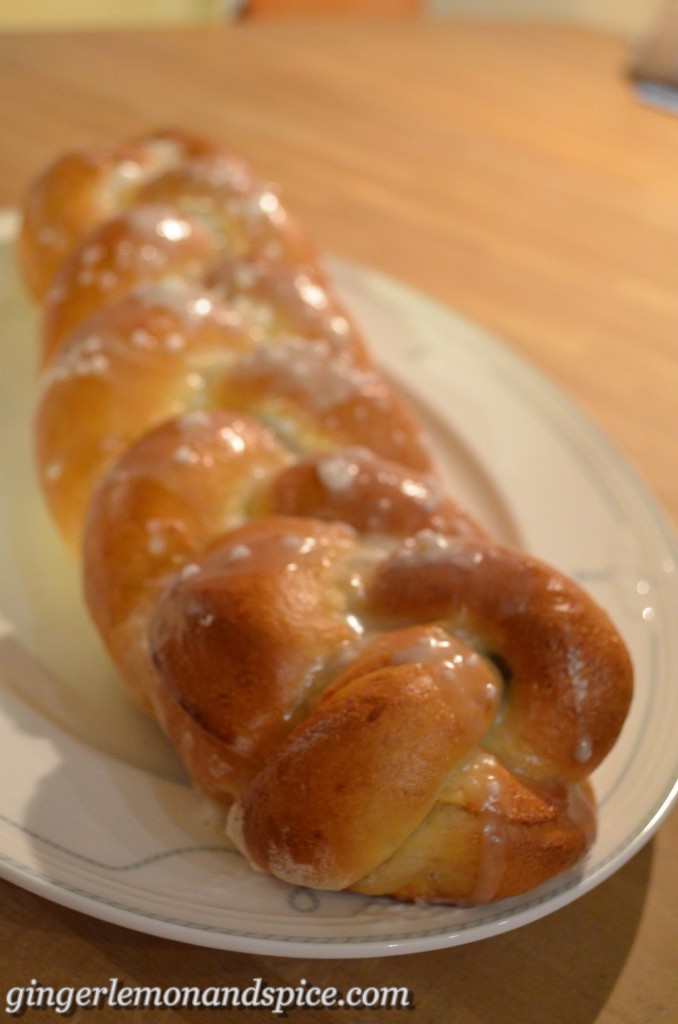 Well here I am with a great new recipe for you: It is a yeasted and braided bread with a filling of ground walnuts (from our own tree in the backyard!!)! It is sooo pretty and tastes incredibly good! You can't stop eating once you started 🙂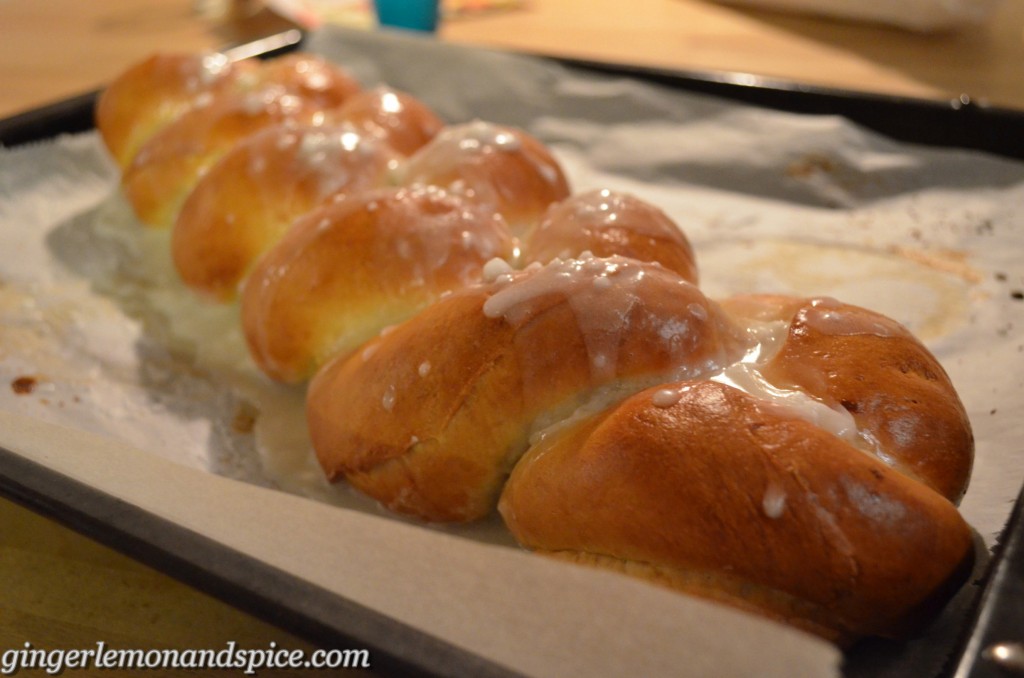 I made this braid with my godchild because she wished for it as she had never done one before. You see, I can't see here as often as I want to because I live and study in another city but I really wanted to make her wish come true! So we made a date and just started baking 🙂 It was awesome!! I really enjoyed the time being with her and doing stuff I love and makes her happy too! 🙂 We were very proud of the outcome and I'd say we were right to be!!
I took a lot of pictures to show you every step of how it's done! But because I didn't want you to have to scroll over soo many pictures until you finally reach the recipe I installed a little feature: A slideshow!! Hope you like it 🙂
And here is the recipe:
Braided Yeast Bread with Walnut Filling
Elegant, soft and yummy yeast bread that is perfect for any coffee table!
Author:
Kathrin @ ginger, lemon & spice
Ingredients
Dough
500g (4¼ cups) flour
1 sachet of dry yeast
1 pinch of salt
50g (1/4 cup) sugar
50g (1/4 cup) butter, softened
200ml (3/4 cup) lukewarm milk
Filling
150g (1¼ cup) grounded walnuts
75g (1/3 cup) sugar
1 tablespoon vanilla sugar (or 1 teaspoon extract)
1 tablespoon bread crumbs
6 tablespoons cream
1 egg white
if you want: apricot marmelade
Finish
1 egg yolk
1 tablespoon of milk
Glaze
40g (1/3 cup) powdered sugar
about 1 teaspoon milk or lemon juice or mixture of both
Instructions
Dough
Put flour, dry yeast, salt and sugar into a bowl and mix. Put softened butter in flakes on top. Slowly add warm milk and mix with a dough hook on an electric mixer. When it pulls of the bottom of the bowl take the dough out on a floured surface and knead with your hands for 5 minutes. Put it back into the bowl and cover with a kitchen towel. Let it sit on a warm place until it doubles in size (about 30-45 minutes).
Filling
Mix walnuts, sugar, vanilla, bread crumbs, cream, egg white and if you prefer some apricot marmelade to taste.
Assembling
Roll out your dough on a floured surface. You can make it as thick or thin as you like. If you prefer your filling more evenly distributed make it thinner and if you want a thicker layer of filling do it thicker.
Cut the dough into 3 parts lengthwise. Distribute the filling on all three parts, then roll up each one individually from the larger side. Now you have your three strings and you can start braiding from the middle to each side (look on the fotos for reference). Hide the ends underneath the braid and put the whole thing onto a baking tray that's layered with baking paper.
Let it sit covered with the kitchen towel in the warm place for another 30 mins.
Preheat oven to 180° C (350° F).
Brushing
Mix the egg yolk with the milk and brush it on top of the braid. Bake for about 35 minutes.
Your braid is finished when the top (and bottom) are golden brown and a wooden skewer inserted into the middle comes out clean.
Glaze
Mix powdered sugar and liquid (little by little!! until you have the consistency you want) and brush on top of hot braid. Let cool and Enjoy!!
 
Have a great day!!
~ Kathrin
&copy Copyright 2013 Kathrin, All rights Reserved. Written For:
ginger, lemon & spice