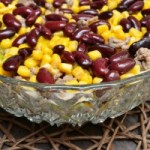 Hello everybody!
Today really is a nice day!! The sun is shining, not brightly, but still and it is quite warm outside! I was already on tour this morning – I went to the flea market and looked for nice probs, went to a nice store in the city where I looked for more probs 😉 And then went to the supermarket to buy all the ingredients for this yummy Tex-Mex Taco Salad!!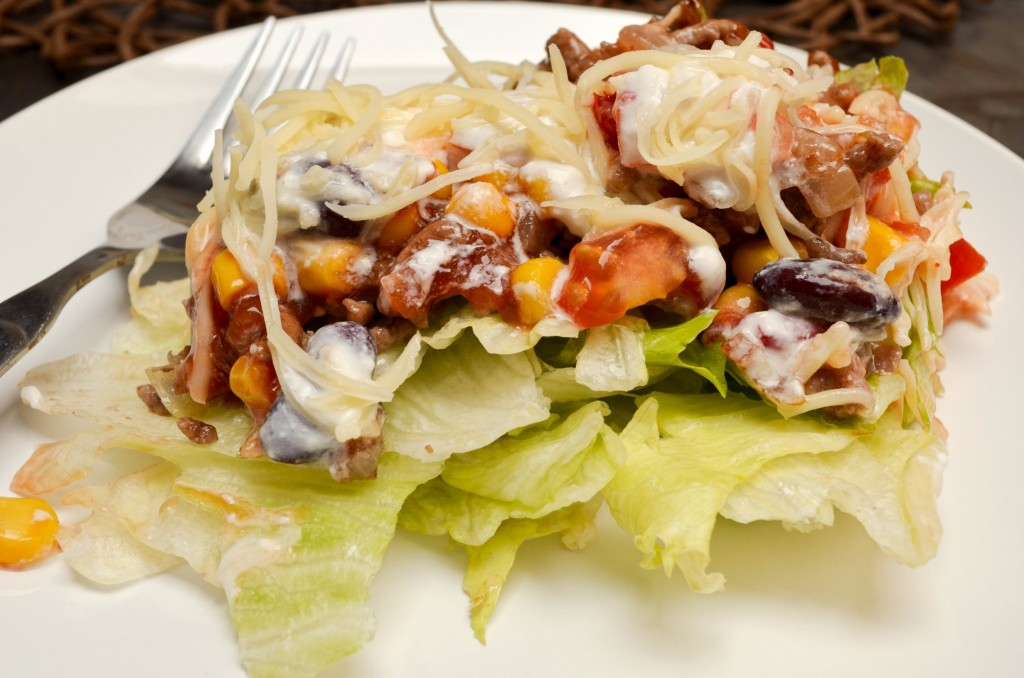 I was craving this salad because of all the delicious Cinco de Mayo recipes posted all over the food blogging world… I didn't even know what Cinco de Mayo was. I had to google it!!
For those of you who don't already know: It is a national holiday in Mexico where they celebrate the victory over the French army in the village Puebla which happend on the 5th of May in 1862.
So I suggested you get into your kitchen and look if you might have already all those ingredients at home or you go for a quick stop at the supermarket and buy them to make this fresh and delicious salad right now!! 🙂
The flavors mix together really well, it has the freshness of the iceberg salad and tomatoes, the creaminess of the sauces and the beans and just the right amount of a little spice of the chilis in the Texicana sauce. I just ate this salad for lunch, it is quite filling and you don't feel like a tightly stuffed sausage afterwards. In fact I could go outside again and do some more cycling! 🙂 I hope you like it too!
Just a quick note before I continue with the recipe: I made only half of the recipe this time. So the salad bowl you see on the pictures is just half of what you will get!
Mexican Style Tex-Mex Taco Salad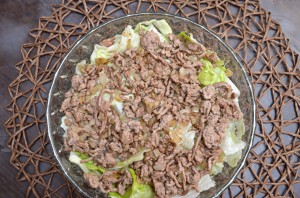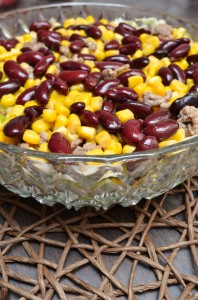 Ingredients:
1 head of iceberg salad
400-500g minced meat (I used half & half low fat)
1 onion
1 can of corn

1 can of kidney beans
1 bottle (500ml) of Texicana Salsa Sauce (or something similar)
2-3 tomatoes
200g sour cream
4 tablespoons milk
200g shredded cheese (I used Emmentaler)
optional: Taco Chips or Nachos
Directions:
1. Put a pan on your stove and heat up on high heat. Meanwhile peel and cut your onion into small squares. Put meat and onion into your pan all at once. reduce heat to medium and stir often. The meat should be very crumbly and in small pieces! Once your meat is done set it aside and let cool.
2. Wash your salad and dry it with a salad spinner. Take a very big bowl and put the iceberg salad in it and make it even. Layer the meat on top. Drain Beans and corn and sprinkle them evenly over the meat. Pour your Texicana Salsa on top and try to create an even layer. Cut the tomatoes in cubes and sprinkle on top.
3. Take a little bowl and whisk together your sour cream and the milk. Pour the mixture on top of your salad and distribute with a spoon. Take the shredded cheese and sprinkle on top!
4. The salad tastes best if you cover it and let it rest in the fridge for 1 hour. If you want you can add the taco chips on top (whole or crushed) or give them as an extra! I usually don't eat any with my salad because I just don't need it and I'd rather save the calories 😉 It is important that if you want them you put the taco chips on top of your salad just before serving!! They will become mushy otherwise.
As with all layered salads you should take something of every layer when you put salad on your plate. Enjoy!! 🙂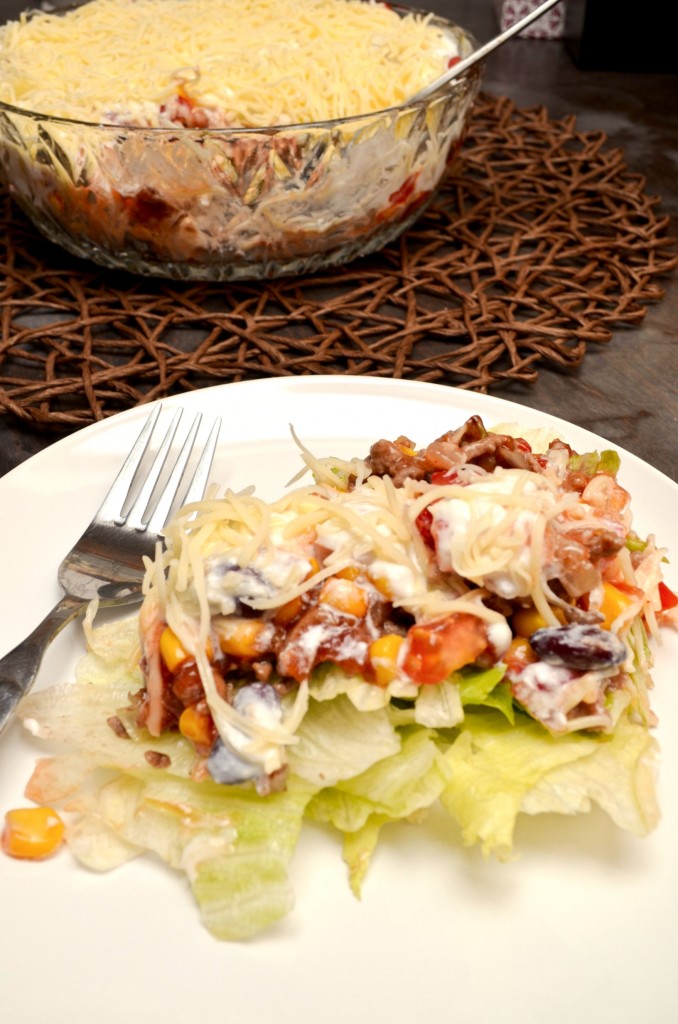 ~ Kathrin