Hey there everybody!
So the first week of my new series Around the World, Week by Week is now over! I hope you enjoyed the last seven days, the little excursus in turkish cuisine and culture and the seven recipes!!
As I promised at the beginning  I will have something special at the end – and it is a guest post!! Zerrin is the lovely lady behind Give Recipe. She is a new mom, lives in Turkey and has the most delicious recipes on her blog!! I love browsing through them – it reminds me so much of my time in Izmir 🙂
I am so happy that she took some of her small amount of free time to write this post for my page!! Also she brings one of my absolute favorite turkish foods to you: Acılı Ezme!! I ate it literally all the time I could get it – even for breakfast with some cream cheese, cucumbers and tomatoes! I couldn't find it in the stores in Germany but now I can make my own! 🙂 It really is fantastic!
So go on, scroll down and read all about turkish food and habits from a native! And don't forget to click over to Zerrin's blog! 🙂
~ Kathrin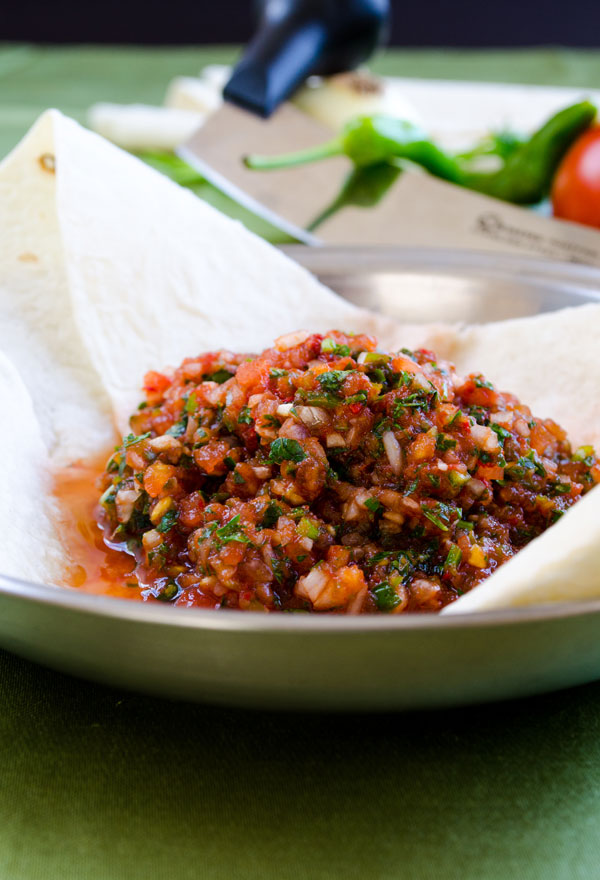 Hi everyone!
I am Zerrin of Give Recipe from Turkey. I'm so pleased to be here, writing at Kathrin's lovely blog! I met her a very short time ago and love that we are both so passionate about food! I always love to meet such foodies! When I learnt that she lived in Izmir, Turkey for some time, I knew that we would have lots of things to talk about. It's great to hear Turkish names of our dishes from her; not everyone knows cacik or pirinç pilavı unless they are as enthusiastic about food and culture as Kathrin!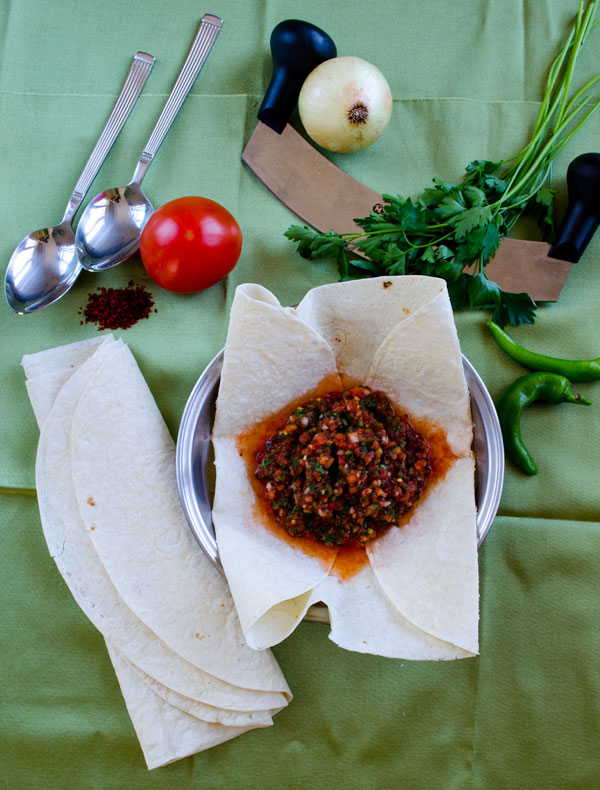 I'm going to share a very addictive salad from Turkish cuisine here today. Hope you all love it!
Ezme is known as a salad or appetizer in Turkey. It is mostly served with kebabs at kebab restaurants. Have you tried Turkish kebab yet? You've missed a lot if you haven't! It is one of the foods you must taste at least once in your life! Once you try it, you will get addicted! Mezzes or side dishes served before kebab and you enjoy them before your kebab is brought. Be careful not to eat too much of these; otherwise you won't have any room for kebab! Acılı Ezme is just one of those irresistible appetizers.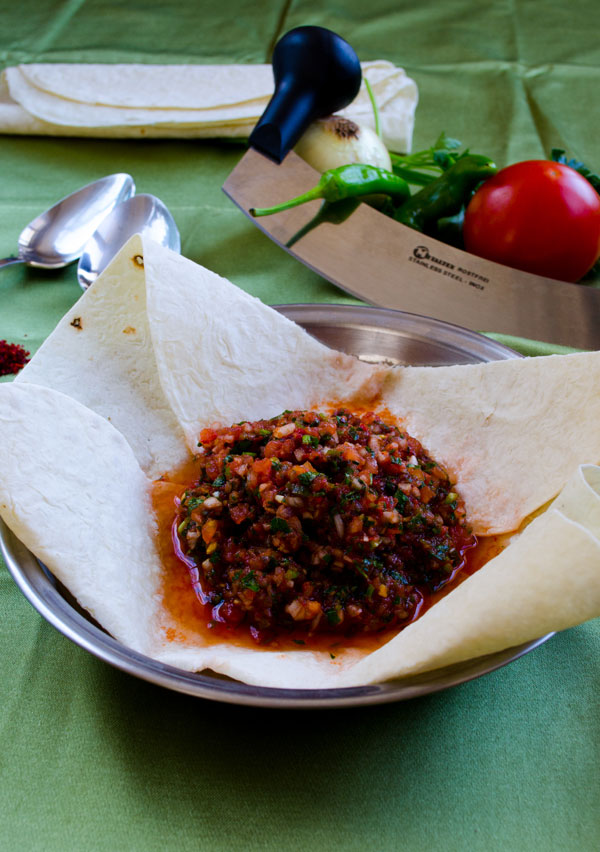 Ezme means "mashed", so this is a kind of mashed salad. Genuine kebab restaurants make it with a big cleaver or with a special double handled knife. It's absolutely easier to chop vegetables with a blender, but there is a remarkable difference between the flavors of ezme made by cleaver or double handled knife and the one made by blender or any other electrical device. It MUST be chopped by hand, otherwise it gets too juicy.
Pomegranate molasses is almost a must in acili ezme since it gives a very nice sweet-sourish flavor and a darker color to the salad. If you can't find it in your area, you can increase the amount of lemon juice a little. As for the spices, hot chili powder is the main one. Another spice I personally love in ezme salad is sumac, which increases its sourness. You can add dried mint too to add a little refreshment and to balance the sour and hot flavor of the salad.
The best bread to serve with ezme is Turkish lavash, which is similar to tortilla or Turkish pide. Kebabs are generally served with these two breads, so you can dip them into ezme as a bonus! And Ayran, which is a fabulous cold yogurt drink, is undoubtedly the best drink with these irresistible foods!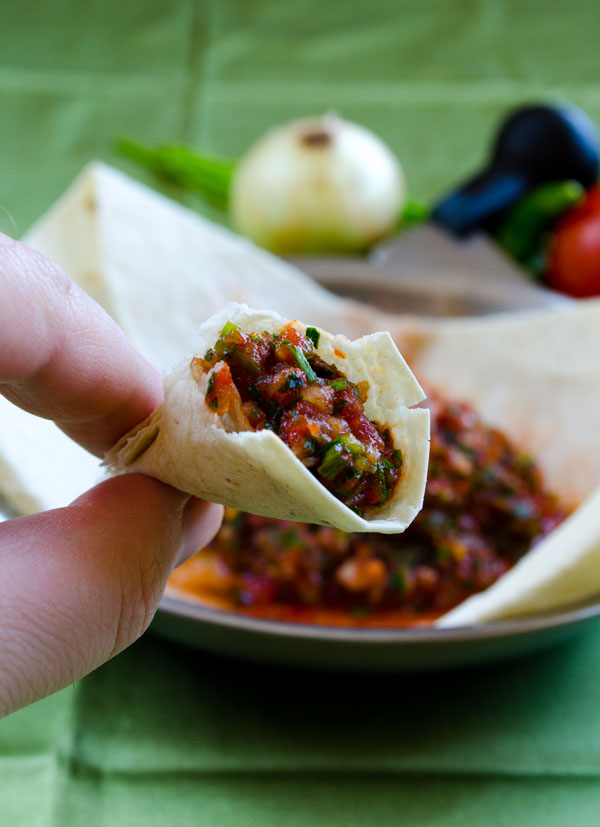 Since it's a refreshing salad, ezme is a perfect choice to accompany any dish in summer! You know what? I can even have it at breakfast! Its spiciness help me wake up and it whets my appetite to eat more.
Acılı Ezme - Turkish Spicy Ezme Salad
Author:
Zerrin @Give Recipe for ginger, lemon & spice
Ingredients
2 tomatoes, peeled
1 onion
1 clove garlic
2 chili peppers
¼ bunch of parsley
1 tbsp lemon juice
2 tbsp pomegranate molasses
1 tsp pepper paste
2 tbsp olive oil
Salt to taste
½ tsp chili powder
½ tsp sumac
A pinch of dried mint
Instructions
Chop peeled tomatoes, onion, garlic, chili peppers and parsley as finely as you can. The finer the better. Mix them in a bowl.
Mix lemon juice, pomegranate molasses, olive oil and pepper paste until smooth. Add this mixture into salad.
Add salt and spices, mix well.
Chill it in refrigerator for half an hour and serve!
Here are the other recipes I shared during this series:
Snack/Fast Food – Lahmacun