Hey people out there!!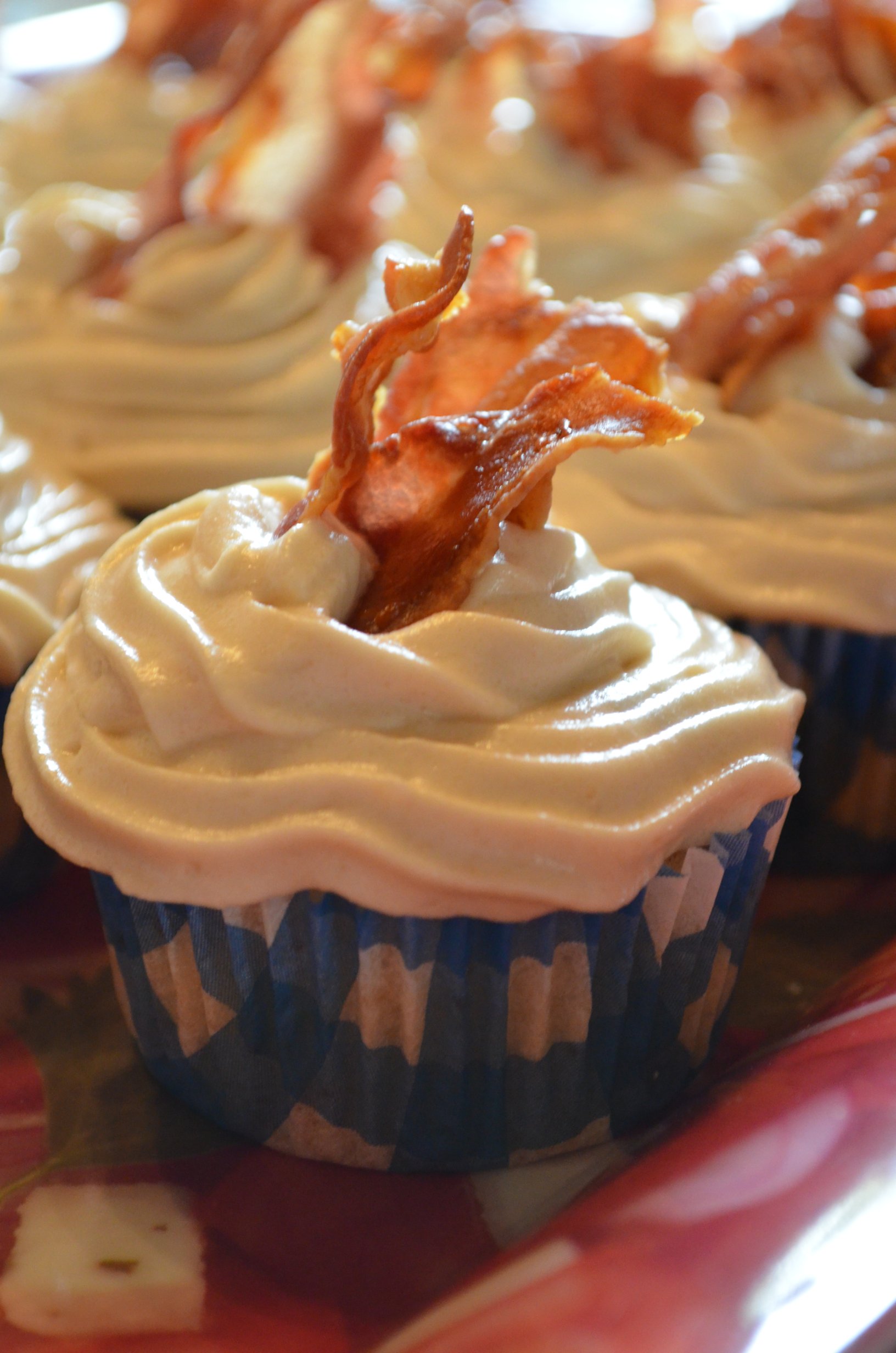 Today I have something very special for you: CARAMEL MAPLE BACON CUPCAKES!!!
Yeah, they HAVE to be written in capital letters, they are just soooooo good!!!
When I first stumbled upon the recipe I thought immediatly of my brother. He is a very big fan of maple sirup – and all things meat of course! He enjoys preparing different meats on the grill and in the oven like low temperature grilled pulled beef or lamb or turkey… That is kind of his greatest hobby!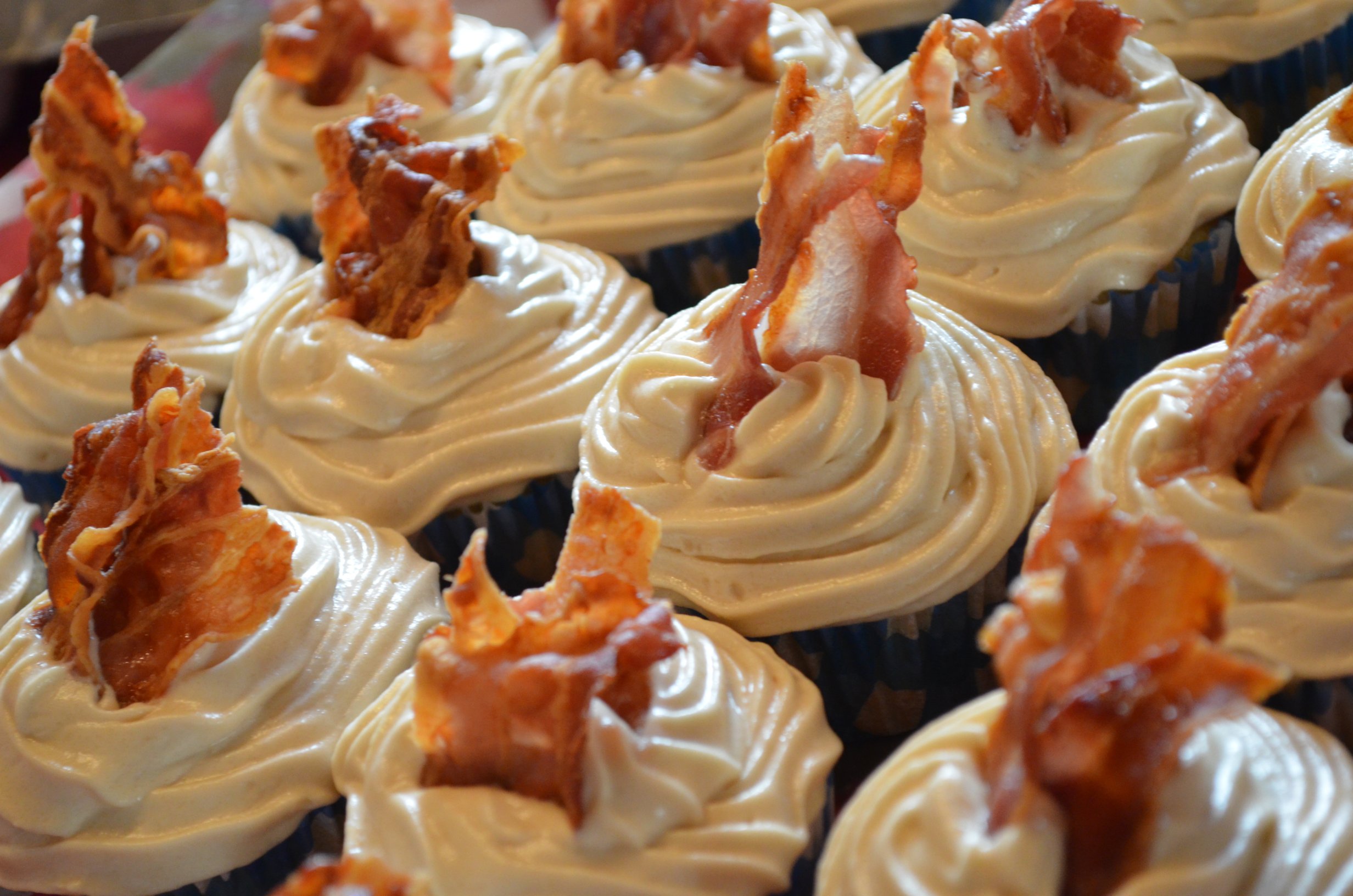 So last week was his birthday and I took the chance and made those delicious Caramel Maple Bacon Cupcakes for him. At first I was quite shocked that the recipe made 24 instead of 12 cupcakes – but it was too late by then. So I made all those 24 cupcakes and thought I would just see what happens.
And it was unbelievable!!  At first everybody was a bit skeptic by the combination of flavors, but then they all liked it very much! The next day I was told by one of the sleepover guests, a friend of my brothers, that he even ate 3 at the party and asked me for one more for breakfast 🙂 Best compliment ever!! 😀
Most of them were gone by the next day, I think there were like 5 or 6 left, but not for long. I am sorry for all the exclamation marks I use but I just feel sooo enthusiastic about those cupcakes!!

Caramel Maple Bacon Cupcakes (makes 24)
Ingredientes:
Muffin:
225g (1 cup) butter, softened
225g (1 cup) sugar
4 large eggs
360g (3 cups) all-purpose wheat flour
1 tablespoon baking powder
1 teaspoon salt
1 cup milk
1 package vanilla sugar (or 1 teaspoon vanilla extract)
Caramel Maple Frosting (makes a lot – I even used the rest for the dessert we ate at our family easter lunch):
225g (1 cup) butter
340g (1 1/2 cups) brown sugar
1/2 cup evaporated milk (Kondensmilch)
1/4 teaspoon baking soda
400g cream
6 packages whipped cream stabilizer (Sahnesteif)
1/2 cup maple sirup
300g bacon slices
Directions:
1. Preheat oven to 170° C (350° F). Beat butter and sugar in a bowl with an electric mixer until creamy. Add the eggs, one by one, beating after each one until incorporated.
2. Add flour, baking powder and salt to the bowl and mix the dry mixture on top a bit with a spoon. Add the milk and vanilla to the bowl and begin to mix slowly with your electric mixer. If the slowest speed of the mixer is too high start mixing by making circles with the mixer without turning it on.
3. Put paper baking cups into 2 (12-cup) muffin tins, or do only 12 at first if you only have one tin like I did. After the first ones are baked, remove the muffins and bake the second ones. Spoon the batter into the cups until about two-thirds full. Bake for about 15 minutes or until wooden pick comes out clean. Put the Muffins on wire racks to cool completely
4. For the frosting melt the butter over medium heat in a pot on the stove. Choose one that is a bit bigger because the batter will rise  about double the size. Add brown sugar and stir constantly. Bring to a boil and cook for two minutes. Don't forget stiring!! Then add the evaporated milk. When everything is incorporated add the baking soda, stir and cook for 1 minute. The batter will double in size! Then remove the pot from the heat, put a lid on top and let cool completely.
I did everything until this step on the day before my brother's birthday so the frosting had time to cool overnight.
5. Transfer the caramel mixture to a big bowl. In another bowl beat the cream with the whipped cream stabilizer until very stiff but it's not butter yet. Now take your electric mixer, add maple sirup to the caramel and beat the mixture for 5-10 minutes until the color changes and it looks whipped up. You don't need to clean the stirrers when you change from the cream to the caramel. Then add the whipped cream and mix until just incorporated. The frosting should be thick enough now to hold together! If you have problems you could still add more whipped cream stabilizer.
6. Pipe the frosting onto the cupcakes and decorate with the bacon bits. The taste-testers later told me either they didn't need the bacon at all or they would have wanted to have more bacon. So choose whatever you want 😉 In my opinion it could have had more bacon!
7. Enjoy! and if you want – share with some special friends!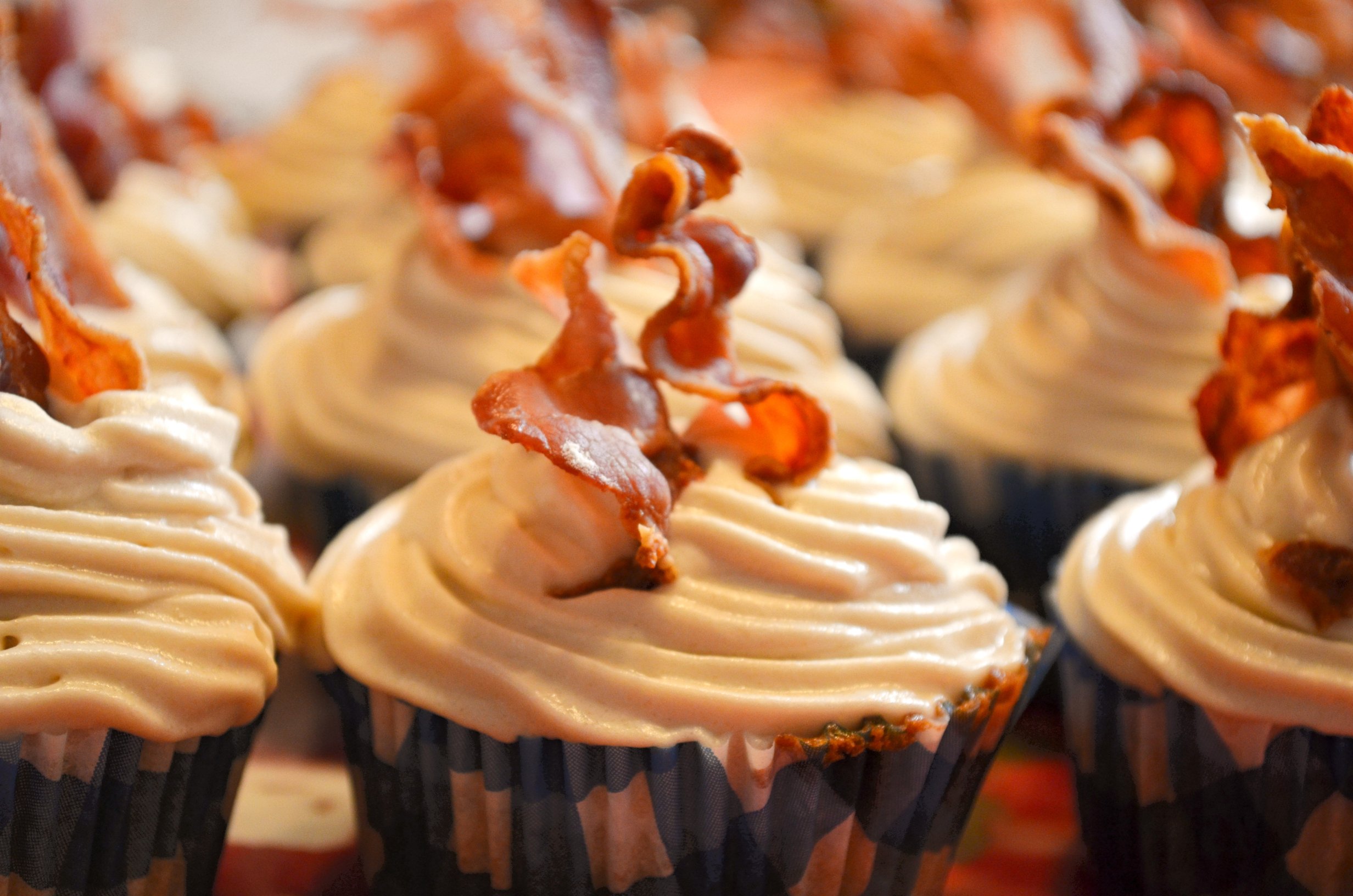 and just one last one more 🙂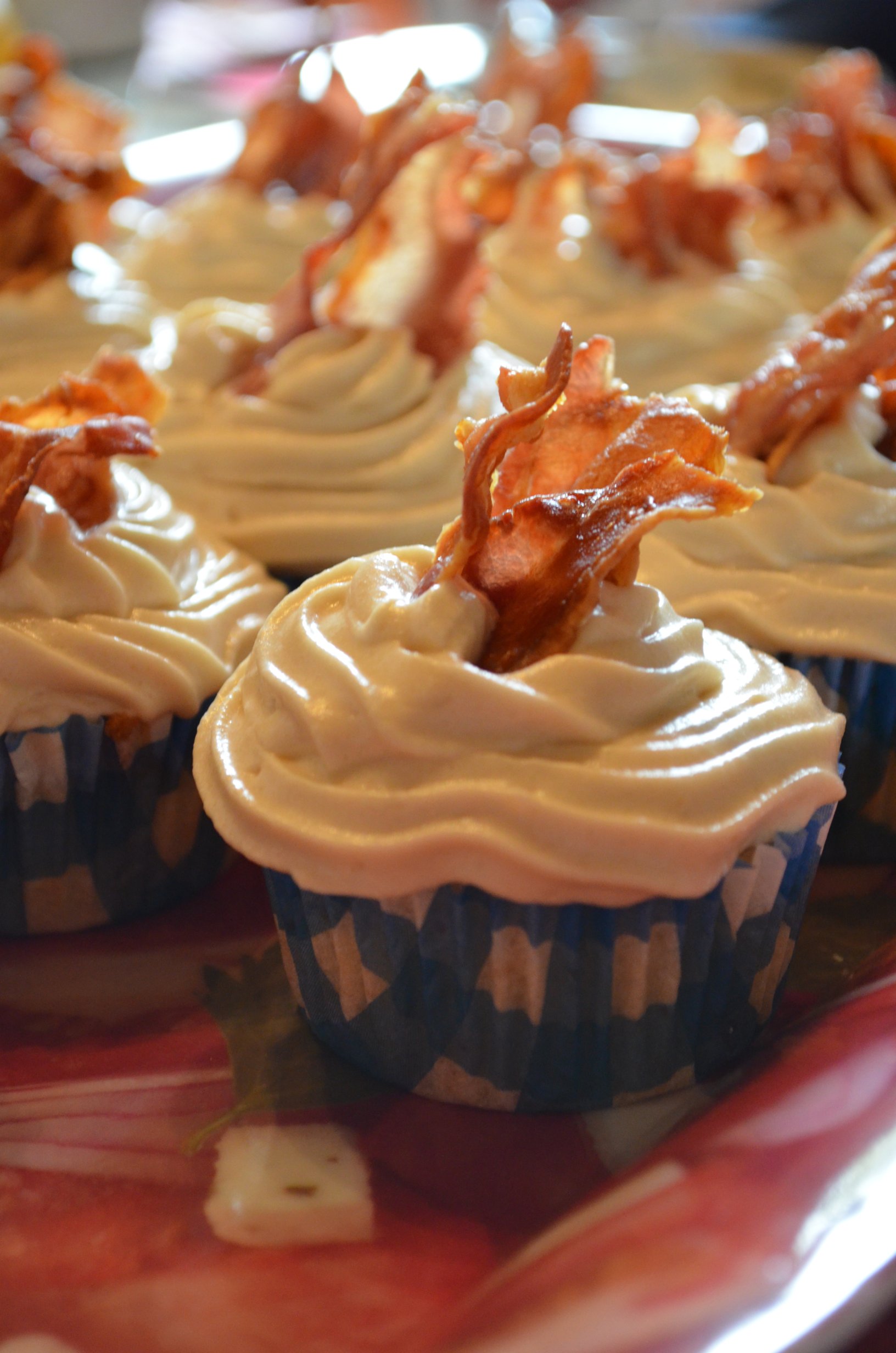 ~Kathrin