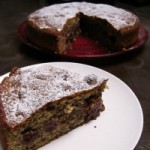 Hey there!
The week is finally over!! BIG SIGH OF RELIEF!!! It was such a long and hard week, having 4 exams to study for and not being even sure if I passed. But it's over now!!!
I am feeling so much better already even if I still have another coloquial one next week.
So I thought it is finally the time to share another one of my scrumptious birthday cakes! My birthday was already 1,5 months ago but I still hadn't the time to share this recipe with you. The Caramel Maple Bacon Cupcakes had to come first 😉
Here I have the Cherry Chocolate Cake recipe for you!! The cake was loved very much too, it was the one who had the fewest pieces left! 😉
Read more about my birthday and the other cakes here: Buttermilk Banana Bread
Cherry Chocolate Cake
recipe adapted from this book
Ingredients:
1 glas sour cherries (about 370g)
100g dark chocolate finely grated with a big knife ( just try to slice very thin slices of the chocolate, it will break into 'grated' pieces)
200g butter, softened (a little less then 1 cup)
175g (3/4 cup) sugar
1 package vanilla sugar (or 1 teaspoon extract)
1 pinch of salt
4 eggs
125g (1 cup) flour
1 teaspoon baking powder
100g grounded almonds (a little less then 1 cup)
Directions:
1. Put the cherries into a colander and drain well. If you want you can keep the sirup but it will not be used in the recipe. Preheat oven to 180°C (350°F).
Butter a springform pan well.
2. Beat butter and sugars with salt until foamy with a hand mixer. This may take a few minutes. Add eggs one by one, mix well in between.
3. Now add flour and baking powder. Stir the dry ingredients on top of the wet ones a little with a spoon to mix up. Then use your hand mixer to incorporate.
4. Finally add chocolate and almonds and mix.
5. Add a little bit of your batter into the springform pan and flatten with the back of a spoon. Put the cherries on top and take care that no one of the cherries touches the rim of the pan. Now add the rest of the batter on top (not all in one place – put big dollops all over the cake) and then spread it out and cover the cherries.
6. Bake the cake for 45 minutes. When wooden skewer comes out clean the cake is ready. Let it cool for 20 minutes and then remove the springform pan.
7. Sprinkle powdered sugar on top of the cake with the help of a small colander. Let cool completely and Enjoy!! 🙂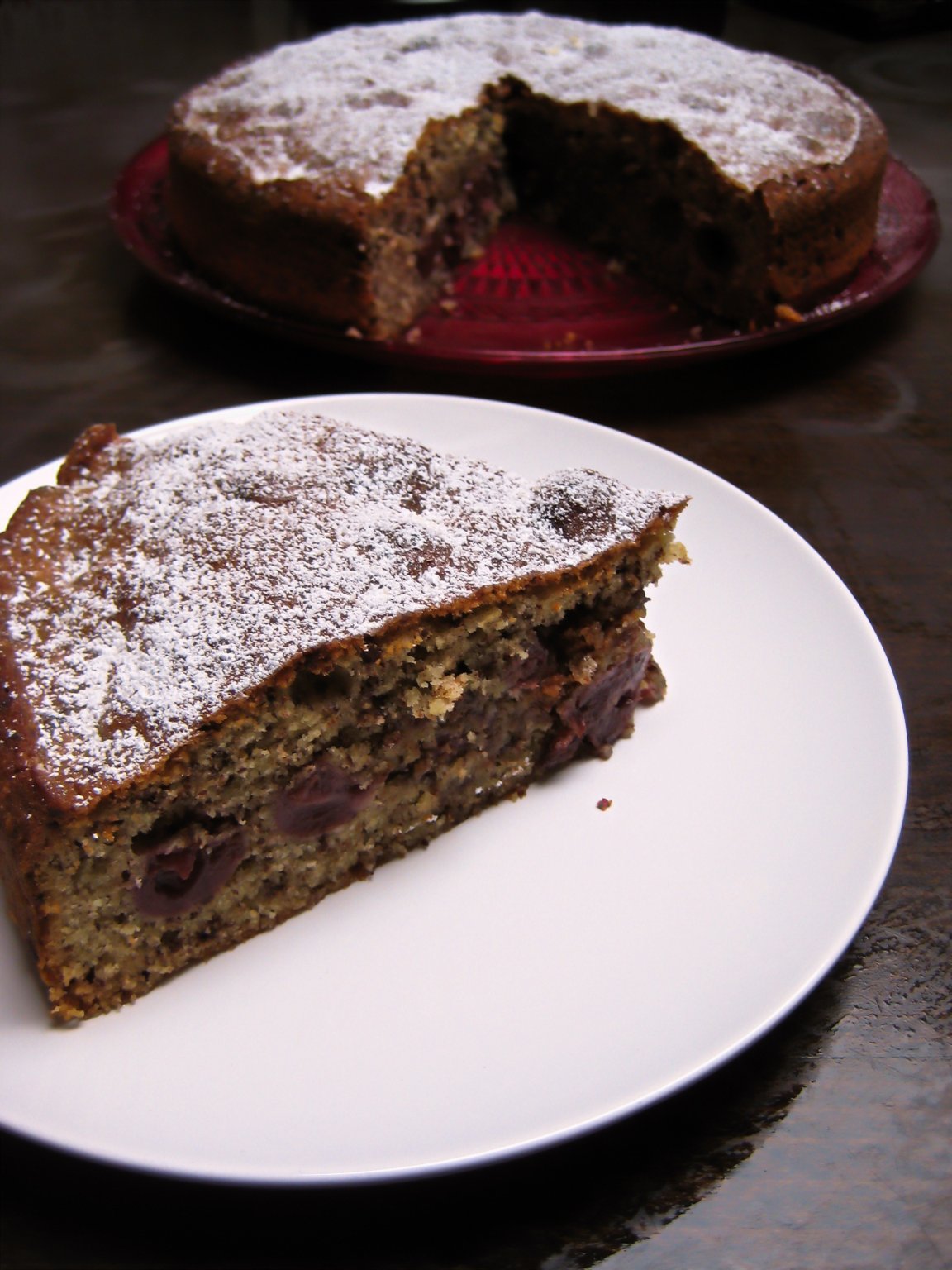 ~ Kathrin