Good evening out there!
This weekend I was all alone in the flat by myself, so I took the chance to make a very big mess in the kitchen over and over again 😉
I should be studying as my exams are getting closer and closer and I have really difficult ones to pass this semester – but I just couldn't let the chance go by!
During all the testing, picture taking and recipe studying I was getting hungry. I was stumbling on a recipe of a blog I am reading: Speedy Sauteed Shrimp & Pasta from dinners, dishes and desserts.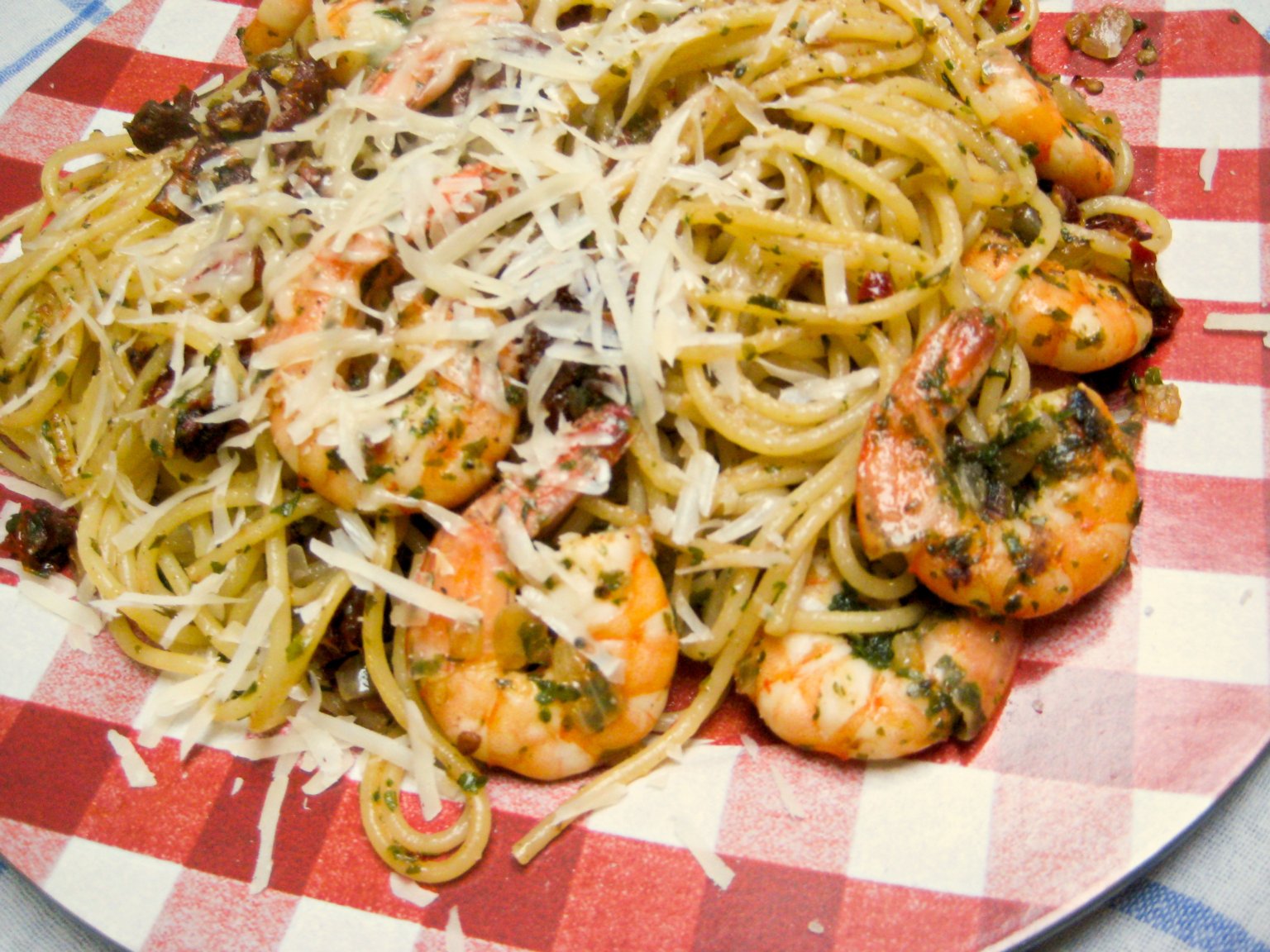 It had pasta, shrimps and sun-dried tomatoes, which especially of the last I am a big fan at the moment. I usually eat them plain or with cheese  but I was already wondering what else I could do with them! On top of it all the package I have right now is very special to me, as it says the tomatoes are from Izmir region in Turkey!! That was where I stayed last summer – and we also went on the fields, ate fresh tomatoes and saw the people laying out the tomatoes in the sun to dry. You see – I had no chance but to make something special with them!
This and that I had already pre-cooked shrimps in the fridge that needed using made this a no brainer for me. Shrimp pasta it was!
Of course I had to give the recipe some twists, as I didn't have everything on hand. But it was very delicious!!
Speedy Shrimp Pasta
adapted from dinners, dishes and desserts (see for exact messurements, I just did it roughly for one person)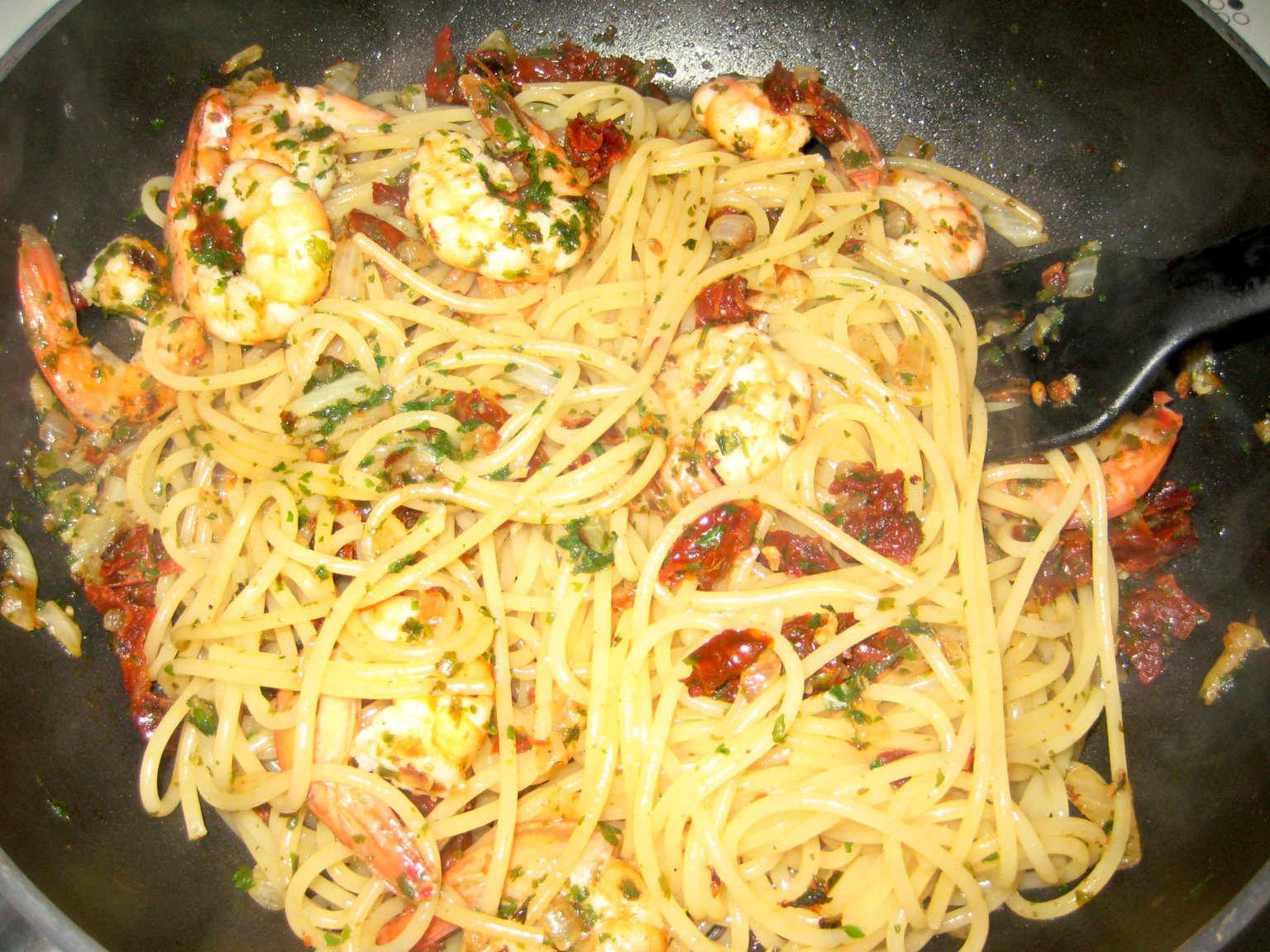 Ingredientes:
spaghetti for one person
1 tablespoon olive oil
1/2 piece of onion
1 piece of garlic
a few red chili flakes
about 7 shrimps (I had precooked ones, but fresh or frozen ones would work to – just cook them through)
about 3 sun-dried tomatoes
juice of 1/2 lemon
parsley (I used frozen), salt, pepper
parmesan to taste
Directions:
1. Cook the pasta according to directions on box.
2. Meanwhile heat a large skillet on medium heat and put the oil inside. Chopp onions and put inside. Saute for a little bit, then crush garlic in a garlic crusher and add with chili flakes  to the onions.
3. Put shrimps into the skillet and after 2 minutes add the chopped dried tomatoes and lemon juice.
4. Season with parsley, salt and pepper.
5. Put the cooked spaghetti in the skillet and mix well with shrimp mixture. If you want you can drizzle with additional olive oil and sprinkle with parmesan.
6. Enjoy preferably with a glass of white wine!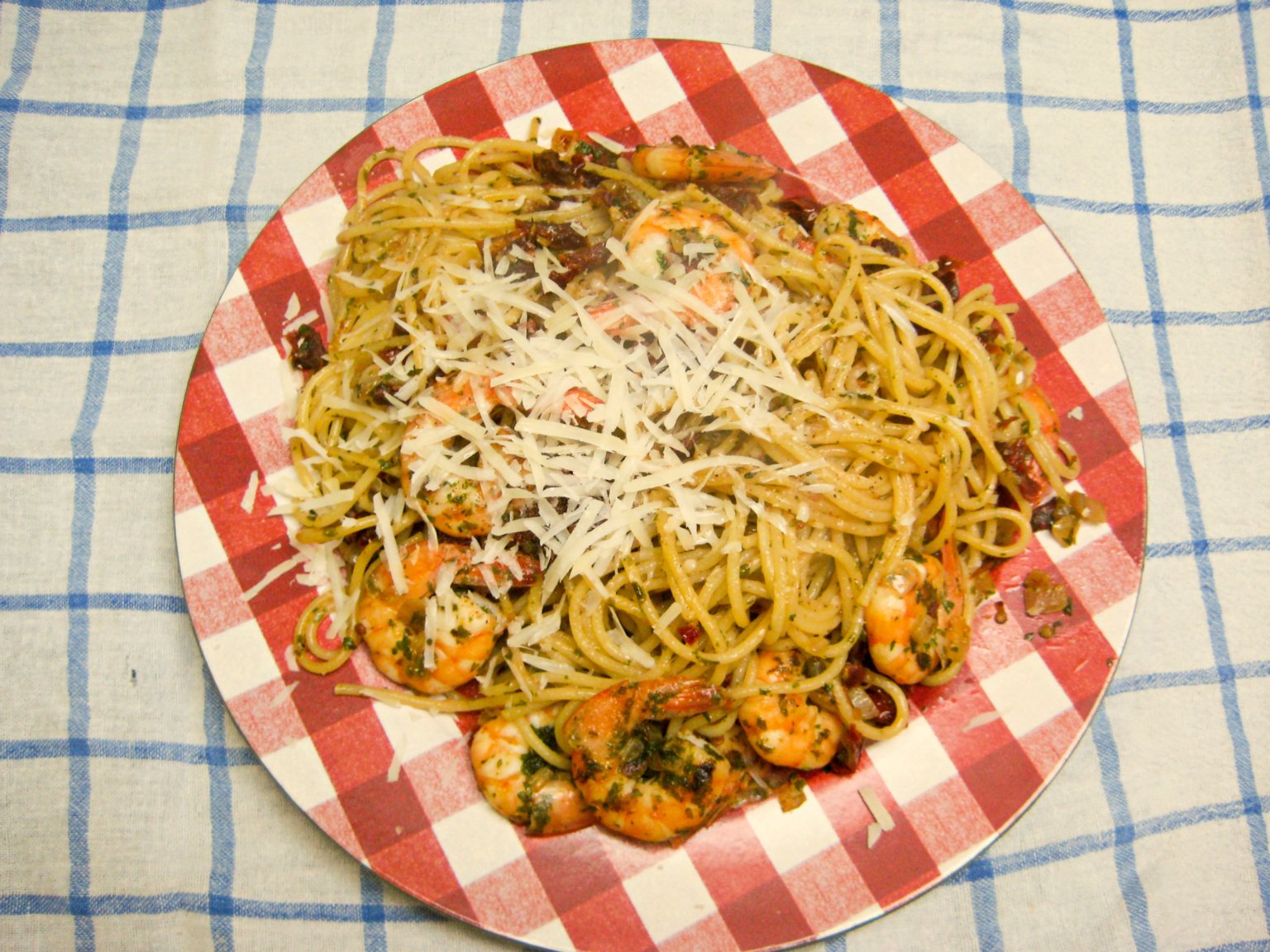 ~ Kathrin