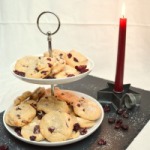 Hello everyone!!
It's a great opportunity to get to know other food bloggers in your own country (and in my case even Austria!) and to taste their awesome cookie creations!
Each participant has to send a dozen cookies of their choice to each of the three recipients that were chosen for him and the participant will get three packages filled each with different cookies from three other participants! You won't know who will send you cookies, what type of cookies you'll get or where they are from – it's a fantastic surprise!
AND to make it even better we're all doing it for a great cause: to support Cookies For Kid's Cancer!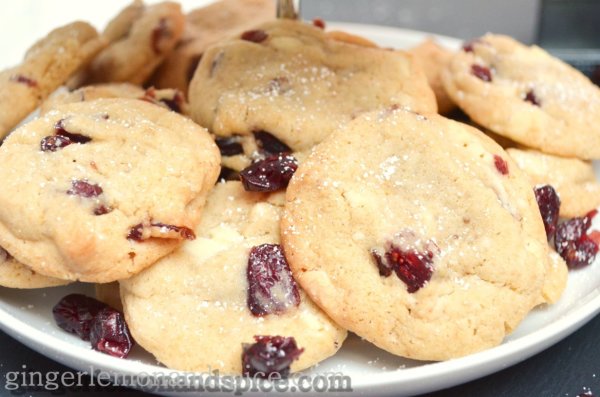 Well, I chose to make White Chocolate & Cranberry Cookies, a recipe that was slightly adapted from Del's Cooking Twist. Del's pictures looked sooo yummy, just like the perfect cookie and then she even calls them THE BEST – I just had to try them. So I made them – 4 times the recipe at once as I wasn't sure how many cookies I would get and I needed enough to send them. Well let's just say I made PLENTY. But – and I'm definitly not lying – they really were the best!!
So what you're waiting for – grab some butter, sugar and a big bowl and start baking!!
The bloggers I send them to were:
Julia from Verily Me
Sönne from Spätzlegirl
and Laura from Laura kocht
The Best White Chocolate & Cranberry Cookies
They are sooo good!! Stop reading and start baking!
Author:
Kathrin @ ginger, lemon & spice
Ingredients
170g (3/4 cup) unsalted butter, melted
125g (2/3 cup) light brown sugar
50g (1/4 cup) granulated sugar
2 tsp vanilla extract (or 2P. vanilla sugar)
1 egg
1 egg yolk
270g (2¼ cups) plain flour
1⅕ tsp cornstarch
1 tsp baking soda
pinch of salt
1 cup white chocolate chips or chopped
½ cup cranberries
Instructions
Whisk together butter and sugars until disolved. Add vanilla, egg and egg yolk. Stir until well combined.
Then add flour, cornstarch, baking soda and salt and mix carefully to combine.
At last mix in white chocolate and cranberries.
Take a large sheet of cling film and place your dough in the middle and flatten it out a bit until you get a disk in the thickness of 2cm. Place in fridge at least for 2 hours, preferably overnight.
When ready to bake: Preheat oven to 160°C (325° F) and line 2 baking sheets with baking paper.
Form balls that are higher than wide and place them with enough space in between on the baking sheets. Bake for approx. 8-12 min, depending on the size of your balls and how chewy you want your cookies. If you want them very chewy they should look slightly underbaked in the middle when you take them out and they will sink in a bit.
Enjoy!
And what type of cookies did I get?
There were Mocca Melting Moments from Kevin of Law of Baking
Orange and Cinnamon Stars from Kathy of Kathys Küchenkampf 
and Marshmallow and Chocolate Cookies from Katja of Hoetus Poetus
Have a great evening!
~ Kathrin